[dropcap]O[/dropcap]n 8th July 1931, a small Nairobi-based airline started a service that would pioneer international air services to Kenya. That was when Wilson Airways began a regular mail and passenger service between Nairobi and Kisumu to connect with Imperial Airways' Central African service.
Then, 85 years ago, in 1932 Imperial Airways, the antecedent of British Airways, extended its Central African route to Cape Town and included Nairobi on the schedule. The service departed London's Croydon Airport on Wednesdays at 12:30 arriving in Nairobi at 16:25 a week later.
It continued to fly this route for the five years, until, in 1937, Imperial Airways replaced the landplanes with the first all-flying boat service. The RMA C-Class flying boats left Southampton for Cape Town, stopping en-route at Kisumu and Mombasa, with an optional stop at Lake Naivasha for Nairobi.
Mrs J. Marks, the wife of a mining expert summarised her experience of the journey saying: "It was a magnificent flight. Our flying boat 'Canopus' was more comfortable than an ocean liner."
She marvelled at how, "thanks to the wonders of modern aviation," only a week after having lunch with friends in London, she was alighting from an aircraft thousands of miles away.
Now, British Airways' daily Boeing 747-400 services do the same journey in eight-and-a-half hours, departing Heathrow's Terminal 3 in the morning and arriving at Jomo Kenyatta International at 21:00 that evening.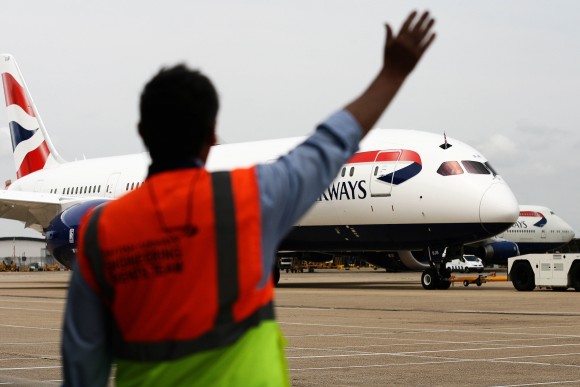 Mrs Marks would be impressed, not only by the flight time, but also that British Airways is continuing the same commitment to the customer experience that so impressed her in 1937. It is investing £400 million in Club World, the latest-generation technology in the air and on the ground, new lounges and enhanced catering.
This includes a new lounge at Jomo Kenyatta International, which will be shared with American Airlines.
Catering has been a focus across Africa and improvements have been made on a number of routes, including Kenya. In addition to changes to the on-board menu, a new service style is being introduced across Club World starting from September, with display trolleys allowing customers to select dishes from a choice of freshly prepared starters and desserts, providing an experience similar to that of a premium restaurant.
The on-board improvements extend to the latest-generation WiFi, which is being rolled out across the long-haul network. Customers will be able to use their own devices to browse the internet, access email and check social media. In addition they will be able to stream video content from sites such as Netflix and YouTube.
Technology is also being used to help simplify and speed up the journey through the airport. Customers are now able to use self-service bag drops at Heathrow, enabling them to label their own bags and drop these off before proceeding through security. British Airways also became the first UK airline to introduce automated biometric technology this year, with the launch of self-service boarding gates at Heathrow Terminal 5.
A statement from BA Kenya read: "It's amazing to consider how far things have progressed over 85 years – from a week-long journey to a flight that takes less than half a day – but innovation and customer experience remain as important as ever."
NEXT: Kenya's biggest bank defies odds to grow its profit