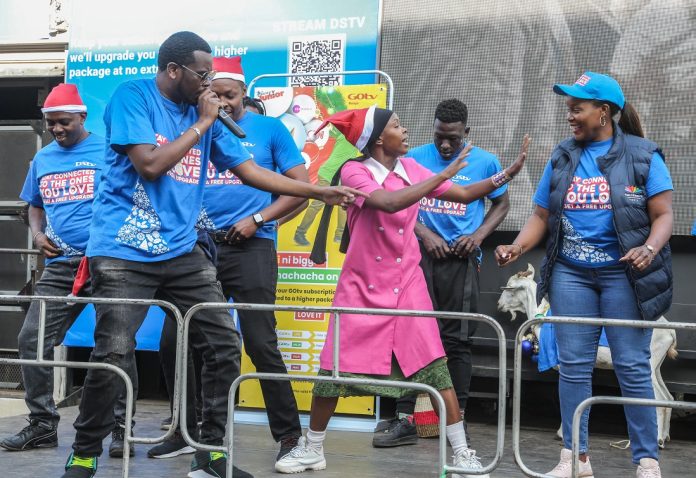 GOtv comes bearing gifts this festive season, where customers get a surprise simply by paying for their subscriptions. From Monday 19 December to 24 January, GOtv customers who pay or renew their GOtv subscriptions will be upgraded to a higher package at no extra cost! Fresh off the FIFA World Cup finals, it's now time for Xmas! You can pay your subscription online, via the MyGOtv app or through any of the other payment options.
Here is how it works
All customers on the GOtv Value bouquets will get a FREE upgrade to GOtv Plus, while GOtv Plus customers will be bumped up to GOtv Max, meanwhile GOtv Max customers will automatically get boosted to GOtv Supa – everyone gets to enjoy enhanced entertainment.
"We want our customers to know that we are always thinking about how to add value to their lives," says Multichoice Kenya Managing Director, Ms Nancy Matimu.
"And we are not leaving them out of our seasonal celebrations. We will always provide them with the best entertainment and a wide selection of premium local and international content, and now they can access that on a higher package, for free."
Meanwhile, DStv is also giving customers many more reasons to stay entertained – whether on the road, on holiday or at home – during this festive season. With an ever-expanding bouquet of the latest sport, movies, series, and reality shows available on multiple platforms, it's never been easier to stay entertained.
And to celebrate the upcoming festive season with a gift to customers, DStv is offering free package upgrades.
Here is how it works
Until 24th January 2023, DStv customers only have to keep their DStv subscriptions active and DStv will upgrade them to the next higher package free of charge.
A subscription to the DStv Compact Plus package, for example, will be upgraded automatically and at no cost to a DStv Premium package, giving viewers a much greater variety of channels, shows, and movies to enjoy.
"The festive season is a time when family comes together," says Ms Nancy Matimu, the MultiChoice Kenya managing director. "We want our viewers to enjoy their holiday with a wider variety of channels to watch with their loved ones. And because it is the season of giving, we're doing it for free."
Read >> Sacked Veteran Anchors Walk Tall From NTV After Many Years Of Service