Former MP and Cabinet Minister Simeon Nyachae is dead at 88 years old. His passing was confirmed in a statement by the family ending widespread speculation on his condition.
Nyachae passed away on Monday, February 1 at a Nairobi hospital where he was admitted. His body was taken to the Lee Funeral Home.
Nyachae was born in Nyaribari, Kisii County to powerful colonial era chief Musa Nyandusi. He was educated in schools including Nyanchwa Seventh-day Adventist School,  Kereri Intermediate School and Kisii Government African School before later attending Torquay Academy and Churchill College, Cambridge, both in the United Kingdom.
He served as a District Officer in Kangundo Division and, later, as a Provincial Commissioner between 1965 and 1979. Nyachae also served as Chief Secretary in the Civil Service under the Mzee Jomo Kenyatta and Daniel Arap Moi governments.
He waded into elective politics after exiting the civil service, and clinched the Nyaribari Chache parliamentary seat in 1992.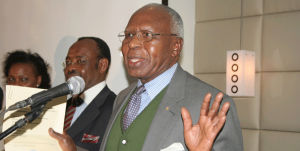 He was appointed Minister for Agriculture by former President Daniel Arap Moi, and in 1998 was appointed Minister for Finance.
In 1999, Nyachae fell out with Moi and the Kenya African National Union (KANU) after being moved to the less influential Ministry of Industry.
He joined opposition party FORD People, and saw a presidential bid fail in 2002.
Nyachae, however, entered parliament along with 14 other Ford People elected members after the party scooped key seats in the larger Kisii region.
In 2004, former President Mwai Kibaki appointed Nyachae Minister for Energy and later for Roads.
Nyachae ran and lost his parliamentary seat in the 2007 election as an opposition wave swept his backyard.
He was named in the Waki report as one of the masterminds of the 2007-2008 post-election violence.
Nyachae also ran several businesses across different sectors including agriculture, real estate, banking and transportation.