Former Cabinet Minister and Gachoka Member of Parliament Joe William Nthiga Nyagah is d**d.
Nyagah p*********y while receiving treatment at the Nairobi hospital. He was 72 years old.
Sources indicate that he d**d of Covid-19 related complications.
Nyagah was a Minister of Cooperative Development and Marketing in the Grand Coalition Government under former President Mwai Kibaki and former Prime Minister Raila Odinga.
Before becoming a part of the grand coalition government, Nyagah had enjoyed several other stints in the cabinet.
He served as Assistant Minister for East African Community (EAC), Assistant Minister for Agriculture, Minister of Lands and Settlement and Minister of Information and Broadcasting.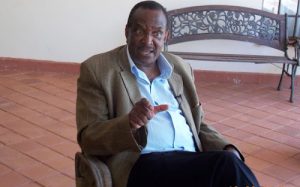 He was also a member of the Orange Democratic Movement (ODM) Pentagon in the run-up to the 2007 General Election.
Nyaga later voiced support for President Uhuru Kenyatta in 2013 and served as a Presidential adviser during Uhuru's first term.
Recent reports had linked him to a planned political come-back ahead of the 2022 General Election.
Having long nursed presidential ambitions, some saw him as the ideal successor to President Uhuru Kenyatta.
Nyagah is the son of former Cabinet Minister Jeremiah Nyagah who served in Mzee Jomo Kenyatta's administration in the 60's.
He received his undergraduate degree in Economics and Political Science from the University of Nairobi.
Nyagah was also the holder of a Masters in Business Administration (MBA) from Northwestern University in the United States.
Between 1973 and 1983, he rose through the ranks to become Assistant Vice President at First National Bank of Chicago (now part of JPMorgan Chase Bank).
He had a stint from 1987 to 1991 at the helm of national carrier Kenya Airways as CEO and Managing Director.