[dropcap]T[/dropcap]he winner of Kenya's top tier league is already known but the second tier is far from being decided. The National Super League has been the most competitive league in the country this season as it has kept its thrill since the date it commenced.
The league, which draws 20 teams from around the country to battle for promotion to the Kenya Premier League, has been a masterpiece. With four matches left to play, any team among the top five has a chance to scrape through. However, only two teams will be promoted.
What might each team need to qualify? Here we look at what each of the top five teams needs to do in order to earn promotion.
Police
The law enforcers are the most unlikely to earn promotion but are still in the race.  Police, which is sitting at position 5 on the table with 63 points, will be hoping that all the teams above them lose their matches.
However, Wazito is yet to lock horns with third-placed Nairobi Stima. If Police's hopes come to pass and the top four teams lose their streak, Wazito's win against Stima would mean they qualify as the runners up. Nairobi Stima's win will mean they qualify as the leaders and so will a draw.
Although as mentioned earlier, the law enforcers are unlikely to earn promotion.
Ushuru FC
They were once on top of the log but didn't find a way to bottle it. They are currently in 4th position, seven points shy of league leaders and two points shy of second and third places. Just three weeks ago, Ushuru were only a point behind Wazito.
Ushuru was once a threat in the NSL and cannot be disregarded as possible surprise entrants into the Kenya Premier League. Ushuru has played in the KPL before and is willing to do anything to get back to the top tier league.
They only need Nairobi Stima and Kisumu All-Stars to drop points in at least two games for them to get back into the race. Luckily, Nairobi Stima plays Wazito in the final game so they are likely to drop points in that game. As for Kisumu All-Stars, their only difficult fixture is against fifth-placed Police.
Nairobi Stima
After beating Wazito, Nairobi Stima had been tipped to compete for promotion. They have lost the least matches amongst all the NSL teams. Not even Wazito or Kisumu All-Stars have lost fewer matches than Nairobi Stima.
The only reason Nairobi Stima is not at the top is that they have drawn the most games among the top four. If Stima would have known how to convert draws to victories, they would have had a better chance of gaining promotion.
Luckily, Stima is only hoping for Kisumu All-Stars to drop a point and the second spot will be up for them to grab.
Kisumu All Stars
This lake side club came out of nowhere and is now on the verge of playing in the Kenya Premier League for the first time. At second position, All-Stars just need to bag maximum points in the remaining fixtures and they will be promoted.
Playing on home turf at Kisumu's Moi Stadium has helped All-Stars as they have not lost a single game at home. To their advantage, two of their remaining fixtures are at the Moi Stadium. They even play Police at Kisumu, which is an advantage to the lakeside club.
Wazito FC
Currently sitting at the top of the log with 72 points, this team has been in tremendous form this season and is four points clear of second-placed Kisumu All Stars. What Wazito need to do to get the trophy is simple, they just have to keep winning.
Actually, Wazito needs only nine points from the remaining four games to be assured of promotion but the team is targeting for the trophy so the coach is going for 12 points.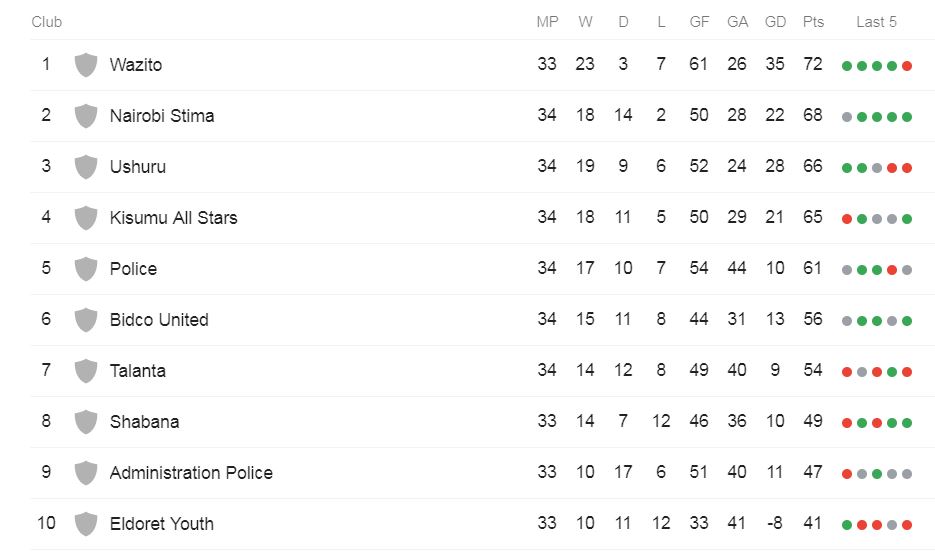 Read: What will happen after Huduma Namba mass listing ends
Regardless of what other fixtures turn out, Wazito will just gain promotion if they win at least three of the remaining fixtures.