An image circulating online that purportedly represents Kamariny Stadium in West Pokot is false. 
The image has previously been posted by OMGVoice Kenya, a verified Facebook page under the caption, "Kamariny stadium in west Pokot now complete".
In the home stretch of the 2022 General elections campaigns, the image has been edited to include the photos of Kenya Kwanza Alliance presidential candidate Dr William Ruto and his running mate Rigathi Gachagua. The stadium is mostly associated with Ruto who promised in 2017 that it would be complete in six months. At that time, Ruto was campaigning alongside President Uhuru Kenyatta, with a promise to build several stadia across the country if they took power.
One of the social media users using the handle @Mekatilili_M claims that is where Ruto will hold his final rally, which is also false. The Deputy President and his communication team have not issued any statement saying so.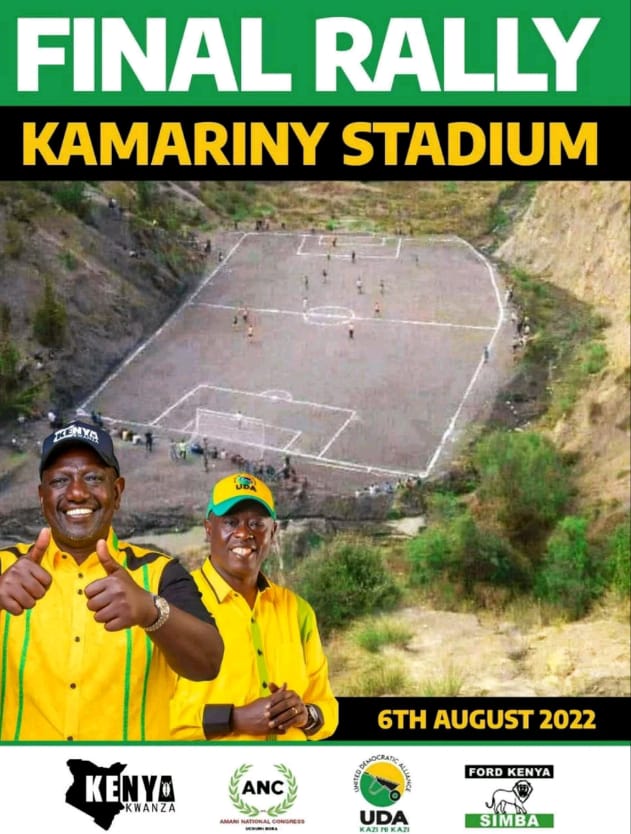 According to a reverse image search on Google, the image was first posted online by a Facebook page named Majestic By, with a caption indicating that the skewed field is in the south suburbs of Buira in Deira area near Ghazlan wall. Deira is one of the oldest and most established areas of Dubai.
According to a report by the Daily Nation on April 19, 2022, the construction of the real Kamariny Stadium has stalled.
"To date, the stadium's playing surface remains a heap of soil. Upon entering the stadium, one immediately notices that the playing surface has been overgrown by weeds," the newspaper reported.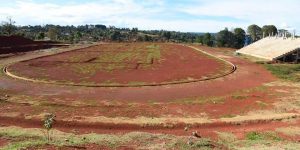 According to the publication, the Kamariny Stadium was to be refurbished to a tune of Ksh287 million in 2017 and the works included a football pitch, laying of a tartan track, VIP pavilion and changing rooms.
[This story was produced by Business Today in partnership with Code for Africa]