The death of industrialist Naushad Merali on 3rd July rekindled a historical transaction in the sale of Kencell Communications to Celtel International in 2006. The interesting bit of it was how Merali, then a major shareholder in Kencell, used his pre-emptive rights when French company sought to sell its stake.
Merali reportedly struck a deal to buy the shares and sold them within 24 hours, making a cool $20 million in the process. Merali owned 40% of Kencell Communications jointly with its French partner Vivendi in 2000. Three years later, when the French firm decided to exit, Merali used his pre-emption rights to arrange a deal that pitted telecoms giants South Africa's MTN and Celtel for Vivendi's stake.
He bought the Vivendi stake in KenCell at $230 million and sold it to the new partner, Celtel International, the same day for $250 million, earning a profit of $20 million (Ksh200 million).
After Vivendi's exit, Kencell was taken over by Celtel International. In its reporting on Merali's death, Daily Nation's print edition of 4th July 2021 wrote: "In the telecommunications sector, he (Merali) is the man who founded Kencell which later rebranded to Airtel, alongside French media conglomerate Vivendi."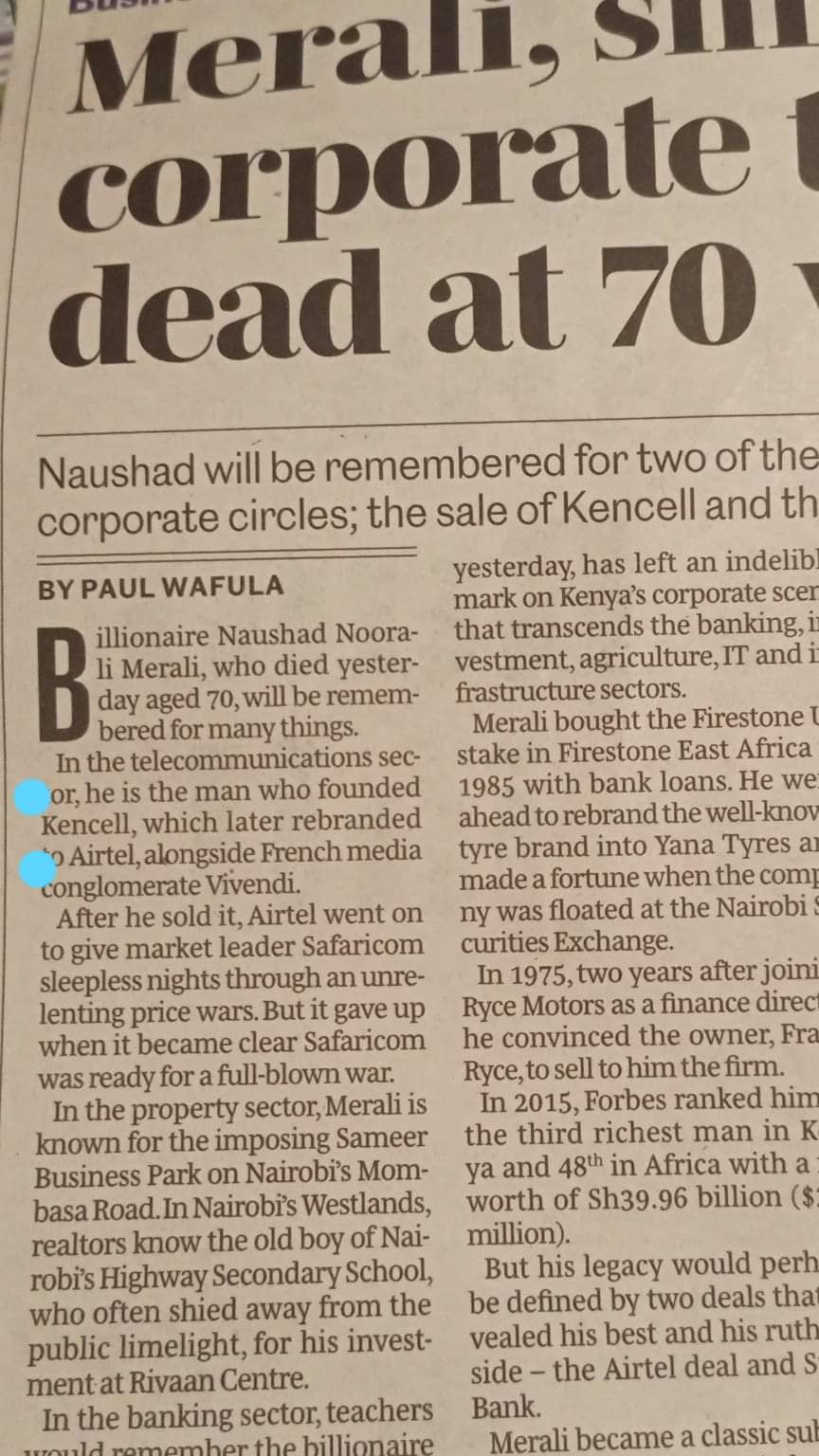 Historical records, however, show that Kencell, the mobile services company, rebranded twice before getting to the Airtel brand name. Airtel Kenya previously operated as Kencell, Celtel, and Zain before rebranding to the current Airtel brand in November 2010.
After the entry of Celtel, Kencell rebranded to Celtel. Later in 2008 it was bought by Zain which rebranded to Zain, before changing to Airtel when it was bought by Bharti Airtel in June 2010. Bharti Airtel acquired Zain Africa's business for $10.7 billion in a deal that covered Zain operations in 15 countries including Kenya but excluding Sudan and Morocco.
The Airtel brand has been operating in Kenya since 2010 under Airtel Kenya Ltd, a subsidiary of Airtel Africa (owned by Bharti Airtel). It is the second largest telecommunications services provider in Kenya after Safaricom. Airtel has about 16.2 million subscribers of the total 59.8 million  in the Kenyan market, which translates to 27.2% market share.
VERDICT: Kencell did not rebrand to Airtel, but went through two other brands – Celtel and Zain. The statement that Kencell later changed into Airtel is thus inaccurate.
[This story was produced by Business Today in partnership with Code for Africa's iLAB data journalism programme, with support from Deutsche Welle Akademie ]