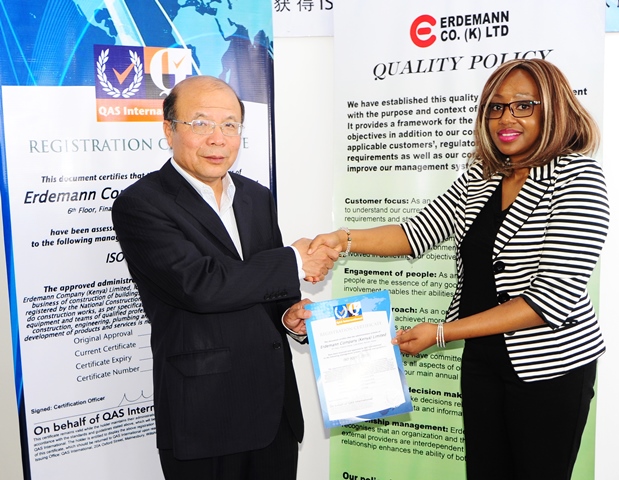 Erdemann Property Limited (EPL), a construction engineering company is working with the government to ensure there is affordable housing.
The firm will be constructing 2000 unit every year targeting Kenyans working in the middle to low income categories.
Erdemann Group of companies chief executive officer (CEO) Mr. John Zeyun Yang said that he was looking forward to importing new technology that will see EPL take the lead in the construction industry in Kenya and East Africa at large.
He was speaking when receiving the ISO 9001: 2015 certification at the Great Wall Gardens Estate in Athi River where the company has constructed 2000 units.
The government's economic blue-print known as the Big Four intends to deliver 1 million affordable homes in the next five years.
"The targeted market for the affordable housing project is working Kenyans in the middle to low-income categories," he added.
He said that promoting and working with government will see to it that President Uhuru Kenyatta's big four agenda for affordable housing is attained.
"EPL started its operations here in Kenya in 1997 and has managed to put up over 4000 units within and outside Nairobi," he said.
The General Manager Mr. Xiangguo Kong noted that as a firm they have undertaken measures to ensure that the 2000 affordable units they will be constructing each year will be strategically located across the country.
The Government has been encouraging partnerships with private developers by availing public land for development and undertaking land swaps, which involves the transfer of public land to private developers in exchange for more suitable land for development, but of equal value.
The  Housing and Urban Development Ministry in January this year shortlisted 35 firms to partner with the government in building one million houses over the next five years at a cost of Ksh2.6 trillion.
The houses included some 8,000 houses under construction in Mavoko on a 55-acre piece of land in the pilot phase with further housing projects earmarked in Kitengela, Athi River and other locations across the country.