On 3rd October 2016 at about 2:30pm, Gloria Koima received an unusual guest at her desk. Ms Jane Mugo, the Chief Operating Officer (COO) at KPMG Advisory Services, had a very brief message for her: the CEO, Josphat Mwaura, needed to see her urgently.
For a personal assistant to two partners at KPMG, being summoned by the CEO is not an everyday affair and so she imagined there must be a very interesting development at the company. But the fact that she was required to carry her work and personal phones as well as her company laptop aroused her suspicions, but she could never have guessed what awaited her.
Genesis of the case
That mid-afternoon summons kicked off a series of events that would eventually see Gloria sue her employer over a number of issues, including breach of privacy in a precedent-setting case whose final ruling will have far-reaching implications and jurisprudence. Employers with staff policies and codes of conduct adopted from other foreign jurisdictions and international headquarters will have to sit up and take note.
When she arrived at Josphat's office, Gloria was informe that the company's leadership had received information anonymously that she was having an affair with one of the tax partners at KPMG to whom she was an assistant, according to her affidavit, which forms the basis of the legal suit she filed on 21st October 2016. At the CEO's office, Gloria was ordered to surrender the office laptop and phones in her possession, including her personal smartphone, for a forensic audit.
The company had allegedly received information from either her estranged husband or his anonymous well-wishers to the effect that not only was his wife having an affair with the tax partner, he was, in fact, paying off her car loan and financing her divorce proceedings.
The company's IT expert, Michael Kimani, was given the gadgets and worked on them for 10 hours performing "a mapping exercise" during which they accessed and copied her personal information while Ms Koima was detained at the office until 1am without food or drink.
Ms Koima has sued KPMG and its leadership for purported and unlawful dismissal and infringing on her constitutional rights, especially the right to privacy. She is also seeking to be granted a conducive working environment by barring the company from further accessing her personal phone number or initiating any disciplinary measures against her.
Landmark ruling
On 30th March 2017, Lady Justice Monica Mbaru of the Employment and Labour Relations Court ruled that Gloria's phone was unlawfully accessed by the top leadership, while disciplinary processes were commenced without following the provisions of the law. The Judge consequently restrained KPMG from accessing her personal phone any further, and ordered that any information already obtained and data drawn shall be expunged from her work records and any hard and soft copies returned to her.
See Also >> The fool's guide to dating your junior staff or employee
In the landmark ruling, she made a preliminary finding that KPMG violated the constitutional right to privacy (as protected by Article 31 of the Constitution of Kenya, 2010) of their employee, Gloria Jepkurui Koima, in the latter quarter of 2016, while investigating these matters relating to the now unproven allegations about her personal conduct at her workplace.
The Judge said KPMG investigators, led by Josphat Mwaura, the CEO, and his team of partners comprising Brian D'Souza, the IT partner and Ms Jane Mugo, the COO unlawfully seized Gloria's personal phone without her formal and informed consent, and proceeded to use the information thus unlawfully obtained in commencing disciplinary proceedings against her.
Interestingly, the Judge even likened the unlawful obtaining of information from a personal phone to performing an intrusive body search of a person, and she said KPMG cannot use such information against Gloria without bringing this to her attention and informing her of the reasons for such action.
To do so, she argued, would negate Gloria's right to privacy as enshrined in Article 31 of the Constitution of Kenya. It will be interesting to see her comments and analogies on Gloria's detention and the electronic accessing by KPMG's leadership of Gloria's bank statements without her knowledge or consent, in her final ruling after the full hearing.
The Judge's findings, preliminary ruling and the pointed quotations from decided cases in her ruling should be a source of grave concern to the KPMG leadership, as not only has legal wrongdoing been factually and irretrievably established at this very early stage, but the damages payable for violating an individual's constitutional rights are not capped like those payable under the Employment Act. This will definitely turn out to be a costly misadventure for KPMG.
Rising through the ranks
Gloria joined KPMG seven years ago as a tea girl and has risen through the ranks to the position of personal assistant to two tax partners. But her employment life has been turned upside down after this incident. While she was allowed back to work, she continues to be under investigation and works in an environment where she feels unwanted.
The Judge also found that Gloria was being investigated in a hostile environment created by her seniors, and to have refused to surrender her personal phone when it was demanded of her, exposed her to instant summary dismissal, which she could ill-afford given her personal circumstances.
Related >> A rebellion shakes up KPMG
In December, she was asked to resign or be dismissed even after it was established that her M-Pesa money movements were not linked to the tax partner she is accused of having an inappropriate relationship with. Instead, the leadership ruled that she used her personal phone inappropriately and contrary to company policy and hence the decision to dispense with her services.
The Judge said such details were found after the illegal access to her personal phone by the leadership. "The claimant had to consider the facts that she is a single parent undergoing divorce proceedings and that there was no reason as to why she should resign," says Judge Mbaru.
In the ruling, the Lady Justice Mbaru posed a number of questions regarding KPMG's conduct in detaining Gloria while her personal phone was mapped, and whether the leadership took adequate steps to inform Gloria about the intended use of the information they were obtaining and, indeed, whether they informed her of her right to privacy and protected her constitutional right. The court declared these to be weighty matters which will be gone into at a full hearing.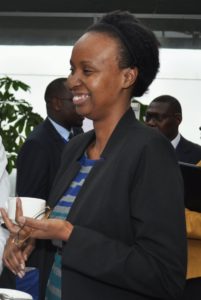 KPMG Kenya is a well-known firm of auditors and advisors, who routinely audit, investigate and report on various acts of non-compliance with the Laws of Kenya, involving private and public companies and public bodies, and is part the Big Four firms globally.
This adverse finding of their non-compliance with the Constitution of Kenya will definitely have a negative impact on their local standing and reputation, and questions will no doubt be raised as to their suitability to propose for and accept any public appointments like the recently awarded audit of the IEBC's voter register.
Other than the significant damages payable to Gloria, it is not clear what the legal consequences are for persons and corporates who are found to have willfully and deliberately mistreated their employee and violated the Constitution of Kenya, and it will be interesting to see how the KPMG international headquarters, local regulators and private and public clients will react to this.
Employers' side of the story
In his response, KPMG CEO argued that the company has a non-fraternisation policy that abhors inappropriate relationships. He says he had received two complaints about Gloria's relationship with the tax partner and that he was financing her lifestyle which was in conflict with the company's ethics and professional requirements. He claimed that Gloria willingly gave up her phone to allow for investigations.
"The claimant was offered to go home and pick her phones the next day but she offered to wait," says Mr Mwaura in his replying affidavit. While the Judge affirmed employers' legal prerogative to unconditionally subject employees to disciplinary processes – even where such processes may lead to termination of employment – she noted that these processes must be carried out in writing and in accordance with the written provisions of the Employment Act.
Next Read >> 10 tips to follow when dating your boss
To support Gloria's case, Lady Justice Mbaru also quoted extensively from recent relevant case law that allows courts to intervene where there is an apparent lack of fairness, where gross injustice would result, and where disciplinary proceedings by an employer are commenced with an ulterior motive and or are shrouded in illegalities.
In this regard, the Judge quoted from the case of Bernard Murage Vs Fineserve Africa Ltd & 3 others [2015] eKLR, where the court found that, "…the dignity and freedom of an individual in a democratic society cannot be ensured if his communication of a private nature, be they written or telephonic are deliberately, consciously and unjustifiably intruded upon and interfered with."
The Judge strongly defended and re-asserted the supremacy of the Constitution of Kenya, and sternly warned KPMG that it matters not that the KPMG Staff Policy and Code of Conduct may allow such obtaining and subsequent use of information from Gloria's personal phone to discipline her, if these company policies and codes violate Article 31 of the Constitution.