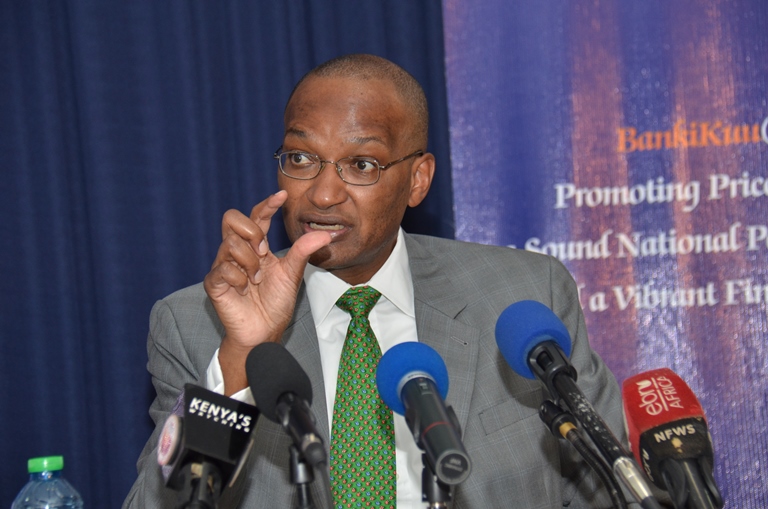 One positive thing to emerge from the coronavirus gloom today is that the fast-spreading d*****e may have afforded Kenyans more time to pay their loans.
Speaking at a meeting in State House today, Central Bank Governor Dr. Patrick Njoroge flanked by Kenya Bankers Association (KBA) Chairperson Joshua Oigara announced commercial banks have agreed to extend repayment of personal loans by a period of up to 12 months to allow Kenyans the wiggle room to recover from the effects of the novel coronavirus which threaten to be devastating by the day.
There is a slight difference between personal loans and business loans and in this case, the new measures are meant to cushion vulnerable members of the society.
"One of the things we have agreed on is that banks will seek to provide relief to borrowers on their personal loans based on their individual circumstances arising from the p******c," said Dr. Njoroge.
According to Dr. Njoroge, 28% of all the loans dished out to Kenyans are personal loans and the rationale behind the new measure is to protect any borrower who might lose their job or remain unable to service the loan due to the impact of the virus on their way of earning a living.
"All loans that were current on March 2, will be eligible for this consideration," added Dr. Njoroge.
Small and Medium Enterprises (SMEs) together with corporate borrowers can also approach their banks with the view of restructuring their loans
"The cost of restructuring the loans will be borne by the banks. No cost will be transferred to the borrower," added Dr. Njoroge.
Banks will also waive the costs of balance enquires as a method to encourage Kenyans to transact online and dissuade them from using hard cash which has been identified as a weakness in the fight against the spread of the d*****e.
Transfers from bank accounts to mobile/digital accounts have also been zero-rated as a follow up to the announcement that mobile money transfer service providers have suspended charges on transactions below Ksh1,000.
By the same token, all cash that will be coming out of banks will be quarantined for at least one week, the goal being to make sure that the virus d**s off before the money can be handled again.
Dr Njoroge further reemphasized Monday's announcement that saw CBK announce an increase in the transaction limit for mobile money to Ksh150,000 as well as raise the daily limit for mobile money transactions to Ksh300,000.
The mobile money wallet limit was also increased to Ksh300,000 while the monthly total limit for mobile money transactions was eliminated.
Charges for transfers between mobile money wallets and bank accounts were also dispensed with for the 90 day period.