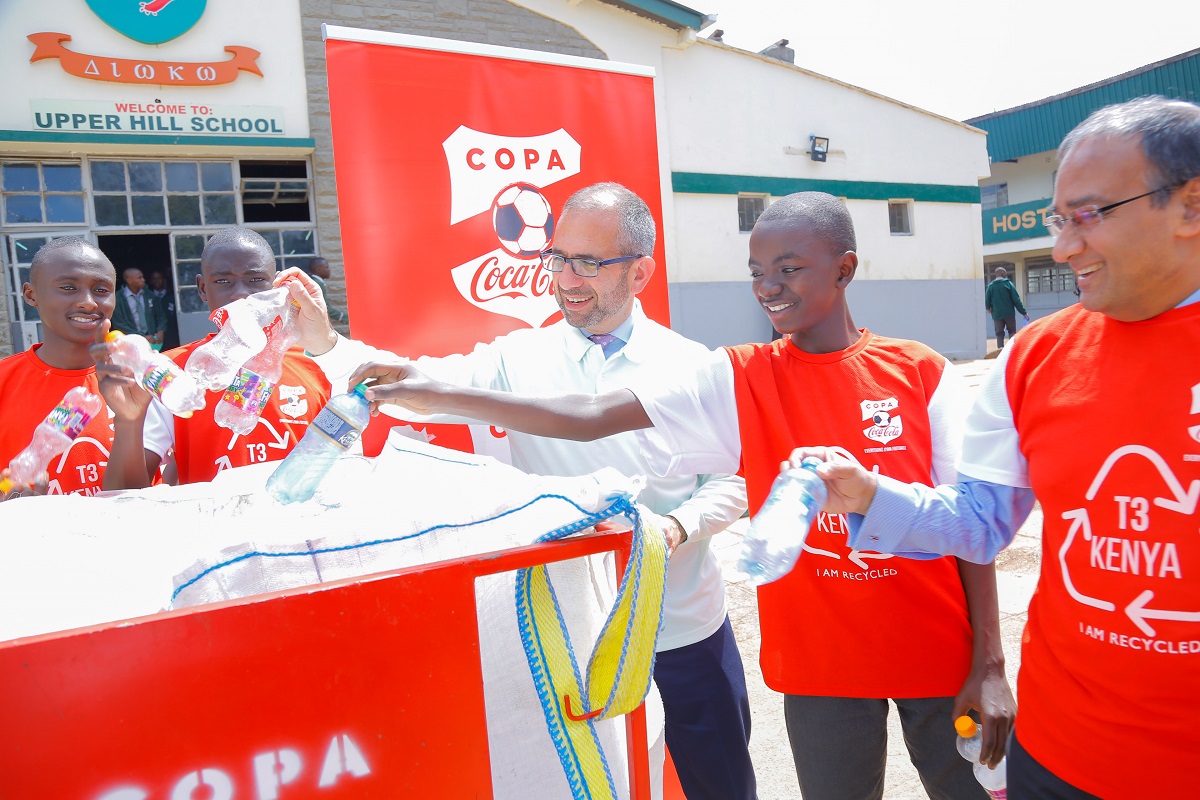 Coca-Cola has announced leading schools in the ongoing 2019 COPA Coca-Cola plastic recycling competition, which involves at least 198 participating schools have so far collected an impressive 92,057.70 kilogrammes of PET.
Queen of Rosary from Central region, which has collected 1,935 kilogrammes, Elburgon PCEA Secondary School from Rift Valley region (2,237 kilogrammes) and Ruaraka High School from Nairobi (938 kilogrammes) lead the pack.
Other notable schools are Moi Girls Isinya (876 kilogrammes), Ong'icha Secondary School and Nyaura Secondary School from Nyanza region having collected 2,889 kilogrammes and 2,932 kilogrammes respectively. In the Eastern region, Embu Secondary has 3,818 kilogrammes with St Antony Siakago having 513 kilogrammes and Masii Boys High School at 710 kilogrammes.
"The inaugural competition has been an eye opener for us, affirming the fact that creating knowledge and awareness about waste and its responsible management is key to sustainable behaviour change. As a system, we will ensure we continue with the behavior change campaign in years to come. This will go a long way to ensure that the teens grow to be responsible members of the community," said Emily Waita, Head Public Affairs Communication and Sustainability Coca-Cola East, West and Central Africa Franchise.
"The plastic recycling competition is ongoing and we look forward to seeing the final tally and crowning the top schools come the end of the year," she added.
Refurbished football pitch
The winning schools will be awarded with a refurbished football pitch which will have a standardised playing ground, goal posts, nets, score board and the students supplied with soccer bibs. The second best schools will receive goal posts, nets, corner flags, score boards and player bibs. Finally, the third best school will be handed soccer ball and jerseys.
The COPA Coca-Cola Plastic recycling initiative is concurrently on-going in Ethiopia, Kenya, Tanzania, Uganda and Zambia.
The company currently runs similar programmes in South Africa (Coca-Cola Beverages South Africa and Coca-Cola Peninsula Beverages) and collectively run the biggest schools recycling programme in the country. Since its inception six years ago, R20 million has been invested in the programme resulting in 2,034 tonnes of waste collected. By selling recyclable waste to collectors, schools are able to raise funds to develop their own infrastructure.
The Coca-Cola Company early this year announced a global goal to help collect and recycle the equivalent of 100 percent of its packaging by 2030. To achieve this, the Coca-Cola system is working with local communities, industry partners, our customers, and consumers to help address issues like packaging waste and marine debris.