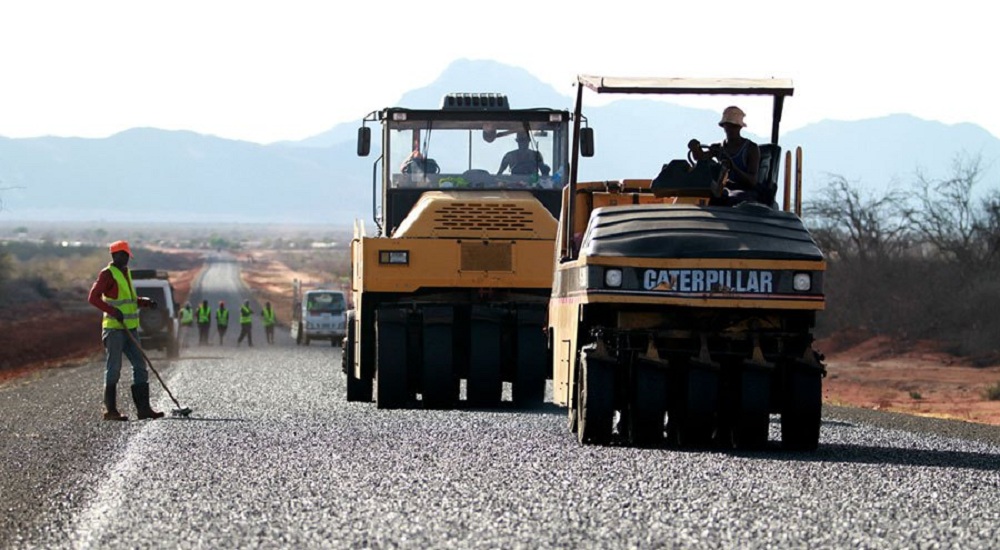 China Wuyi Industrial Co announced that it has won a bid for two road reconstruction projects in Kenya, a move that further expands the construction company's presence in the African country and other countries in the region.
In a securities filing late on Friday, China Wuyi said that under the deal, which is worth Ksh 14.2 billion (US$138 million), it would upgrade and reconstruct the Buhimba-Nalweyo-Bulamagi and Bulamagi-Igayaza-Kakumiro roads.
In October 2017, the Chinese company said it would open a building materials market in Kenya in 2018. The Kenya Construction Industrialisation Base, valued at Ksh 10.3 billion (US$100 million), has been under construction since September 2016.
The base will have annual capacity of producing 50,000 cubic meters of precast components to meet the growing demand of buildings for Kenyans.
Chinese firms have shown growing interest in Kenya in recent years, especially in infrastructural development, including the Standard Gauge Railway (SGR).
Already, a Chinese private enterprise firm owns Twyford Ceramic Company, a ceramic factory in Kajiado county, which employs 1,500 locals to work in production of floor tiles. It is the largest of its kind in East Africa.
Last month, FiberHome Technologies Group also announced it was seeking to help Kenya to digitise its economy through supplying modern telecom equipment.
Liu Jie, the firm's manager at Representative Office of Africa told Xinhua that it wants to partner with local telecom operators to supply them with the latest fiber optic technology.
"We are willing to share our experience from the global fibre optic market to help to expand broadband access in Kenya, in order to bridge the digital divide, and drive the development of Kenya by ICT technologies," Liu said.
"We would like to establish long term relations with both telecom operators and government in order to make Kenya become the digital capital of Africa," he said on the sidelines of the first China-Africa Industrial Capacity Cooperation Exposition held from December 13 to 16 at Kenyatta International Convention Centre (KICC) in Nairobi. .
Kenya is currently expanding its national fibre optic network in order to promote the uptake of broadband internet in the country.
FiberHome Technologies, which established its Kenyan operations since 2014, is currently undertaking a feasibility study to set up a local assembly plant to supply telecom equipment to the East and Central Africa region.
Liu added that his company is able to deliver cutting edge solutions because it devotes ten percent of its annual revenues to research and development.
Another Chinese company, Ritar Power signed an agreement with Chloride Exide to promote renewable energy in East Africa.
According to Karanja Njoroge, General Manager of Chloride Exide, the five year agreement to be the exclusive distributor of Ritar Battery products in Kenya, Uganda and Tanzania.
"Under the agreement we hope to promote uptake of renewable energy solutions such as solar and wind by providing affordable batteries in the East Africa region," Njoroge said.
The four-day event which will showcase the latest Chinese industrial technology aims to promote industrialization by encouraging Sino-Africa industrial cooperation.
Ritar power is a leading manufacturer of lead acid batteries for use in alternative energy sector while Chloride Exide has been in existence in Kenya for the past 54 years.
Njoroge said that Ritar Power is a natural partner as both firms are industry leaders in their respective countries.
Chloride Exide noted that the partnership with the Chinese firm will enable it to meet the growing demand for renewable energy solutions.
Njoroge said China has developed advanced technology in tapping renewable sources of energy.
"With the deal with Ritar battery, East African consumers will now be able access high quality renewable energy products at an affordable cost," he added.
During the expo, Chinese motor vehicle manufacturer, Foton and its Kenya-based distributor Pewin Motors  signed a Memorandum of Understanding to distribute the Chinese-made cars in the country.
Foton Motor Kenya Ltd., the wholly-owned subsidiary of Foton International, is responsible for the dual brands operation of Foton in the markets of Kenya and East Africa.
"We are going to develop a wide distributor network across the country to distribute our vehicles to Kenyan consumers," Zhao Xiao, Vice President of Foton International, said during the China Africa Industrial Capacity Cooperation Expo.
"Pewin Motors is the distributor of our light commercial vehicles, and currently we are also searching for more professional partners in both light and heavy commercial vehicles," Zhao said.
The four-day event brought together over 60 Chinese enterprises to showcase their latest technology to Kenyan consumers. Foton motors is one of the largest vehicle manufacturers in China.
Foton Motor Kenya has built its own spare parts warehouse center and a nationwide service network, and has started to assemble vehicles in some local factories. The company has hoped to sell over 500 Foton vehicles annually.
Reporting by Xinhua and Chinanews.com