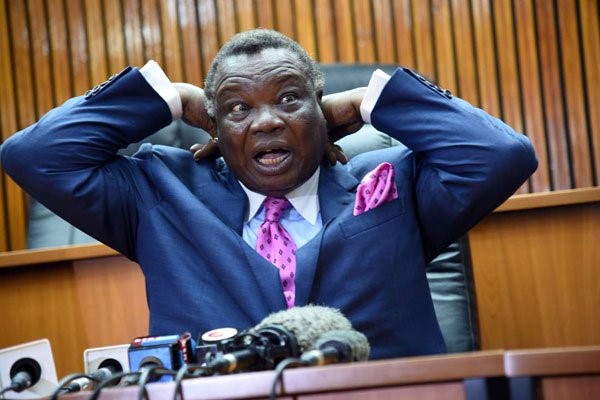 COTU Secretary General Francis Atwoli has been relieved of his duties as a board member of the National Bank of Kenya (NBK) recently acquired by the Kenya Commercial Bank (KCB).
In a public notice, KCB has announced the purging of the former board and appointed seven new directors who are expected to breathe a new lease of life into the previously troubled bank.
Atwoli who occupied one of the two seats reserved for the National Social Security Fund (NSSF) nominees represented workers' interests in the lender.
Besides Atwoli, former NBK Chairman Mohammed Hassan, Mark Obuya and Joseph Kering have also been given the boot.
The new management has also done away with board seats reserved for treasury cabinet secretary and the managing trustee of the NSSF.
"Following the completion of all the regulatory processes for the takeover of National Bank of Kenya, changes have been made to the board of directors," reads the public notice.
"The directors have voluntarily retired from the board to pave way for the smooth transition," adds the notice.
In their stead, KCB has appointed NBK chief executive Paul Russo, John Nyerere, Stanley Kamau, Jones Nzomo, Linnet Mirehane, Gen (Rtd.) Julius Karangi and KCB CEO Joshua Oigara.
Read: KCB Lists More Shares after Acquiring National Bank
"The new board will provide oversight over all the operations of National Bank in line with the overall KCB Group strategy," adds the notice.
NBK rot
The bank first came under scrutiny in 2014 when a whistleblower leaked to the media details of how the bank was being badly run by senior managers.
Investigations by The Nation revealed how the bank's top management used the institution to dish out loans to relatives and companies associated with senior managers.
Also revealed was how the senior managers were awarding themselves irregular bonuses under the board's watch.
See also: KCB Insider Picked to Head National Bank
Atwoli woes
Atwoli was also put on the spot when reports surfaced that he did not meet the required board meetings attendance threshold in 2014 and 2013.
The bank's annual report published in 2014 showed that Atwoli only attended 70% of the 12 board meetings that year.
The long-serving unionist was also at pains defending the beleaguered bank from widespread media negative coverage over the rot.