Mr Joseph Muganda quietly took over as the CEO of Nation Media Group today, replacing Linus Gitahi who opted to take early retirement.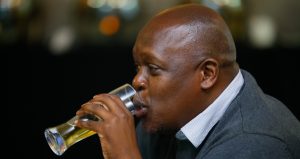 Mr Muganda, who joins NMG from Kenya Breweries Limited, where he was managing director, is entering the media market at a very critical time when broadcasting has transitioned from analogue to digital and newspaper business is facing strong competition from social media and other digital platforms.
Mr Muganda has had a long experience in selling beer, cigarettes, consumer goods and even financial services. Prior to joining KBL, he served in several senior positions at British American T*****o, Unilever and Barclays Bank. But he will find media a different ball game altogether, where politics and corporate interests often hold media houses ransom.
He has inherited a company that is nearly hitting a plateau in terms of growth. Profits for 2014, for instance increased marginally from Ksh3.59 billion in 2013 to Ksh3.62 billion, an indication of the changing dynamics in media industry.
ALSO SEE: NATION MEDIA FREEZES HIRING OF JOURNALISTS
Digital broadcast has brought on board numerous niche television stations which will nibble at the TV ad spend cake, a segment that NGM has two platforms – NTV and Qtv. Digital media powered by the internet is also giving newspapers a run for their money.
He will have to summon his skills in economics, accounting and the University of Leicester MBA to stimulate growth and keep NMG among Kenya's biggest companies in terms of turnover and profitability.
Also, he has been left with products that have not broken even, yet gobble huge budgets, including Qtv, QFM and Business Daily. He will have to find ingenious ways of turning them around or k*****g some of them altogether. Business Daily, which was launched just as Mr Gitahi was coming in, has become an authority in financial journalism but still finds it hard to attract premium advertisers.
Core values vs. external forces
Mr Muganda should also pick some lessons on balancing NGM's corporate goal of being an independent and family media with the external environment from Mr Gitahi, who will continue to serve the group in an advisory capacity until the end of the year.
The NMG board is bullish about him. "Mr Muganda brings a diversified range of expertise in marketing, communication management, corporate and regulatory affairs and general management built over a long career at leading multinational corporations across several markets in Africa," said NMG chairman, Mr Wilfred Kiboro.
NMG is putting up a Ksh2 billion printing press as it seeks to grow its market share with enhanced quality and pagination.  The group is also injecting additional investments in the digital platform as it seeks a larger presence in the enlarged space. This is where more focus should go as readers move from print material to their smartphones.
"I am delighted to be joining NMG and fully subscribe to its shared belief in the invaluable role and responsibility of a strong, high quality and independent media in contributing to the development of society," said the incoming chief executive when he was appointed.
The clock has started ticking.
[crp]