CapitalWorks buys Aon stakes in Sub-Sahara Africa
The transaction spans across 10 countries and regulatory approvals have thus far been obtained in Kenya, Lesotho, Malawi, Namibia, Uganda and Zambia (SEE STORY BELOW)
Private equity firm, CaptalWorks, has completed the process of acquiring Aon's shareholding across certain sub-Saharan operations and will now be operating as Minet Africa.
 The transaction spans across 10 countries and regulatory approvals have thus far been obtained in Kenya, Lesotho, Malawi, Namibia, Uganda and Zambia, with the approvals for the remaining countries expected in the first quarter of 2018.
 "In February 2017, Aon plc announced its decision to change the ownership structure of its operations across several sub-Saharan countries. The various conditions have now been fulfilled and effective 3 November 2017, Aon's African operations was transferred to Capitalworks," said Minet Africa Chef Executive Officer Joe Onsando.  
 The new group will trade as Minet, a well-known and trusted brand across Africa, and will become Aon's largest Global Network Correspondent. Aon employees in these countries as well as key senior leadership, who have extensive industry experience and knowledge of our clients' operations, will remain part of the operations that Capitalworks is acquiring, ensuring leadership, continuity and stability for clients and colleagues alike.
 Mr Onsando said Minet is poised to benefit from Africa's growth and that the company would embrace new technology and innovation to expand its footprint in Africa.
 "The conclusion of this transaction marks a historic milestone for Africa. Our industry finally has its own Pan-African player with a diverse African footprint, owned and led by Africans," Mr. Onsando said.
"The time has come for our African team to take the business through a new growth trajectory. This is the beginning of yet another exciting chapter in our business. It is an affirmation of the tireless efforts they have put into building and growing the company over the past 70 years."
 With a growing consumer market and a population that has surpassed 1.2 billion, Africa is now one of the fastest growing regions in the world. The African Economic Outlook, co-authored by the African Development Bank, the OECD and the United Nations Development Programme, expects the continent's economy to grow by 3.4 percent in 2017 and 4.3 percent in 2018, up from an estimated 2.2 percent last year. The growth will be buoyed by a sustained recovery in commodity prices, a recovering global economy and the return of risk appetite among global investors.
 John Cullen, CEO of Aon Risk Solutions in EMEA said with Capitalworks, Aon Group had chosen to partner with an investor with a sound understanding of local market conditions, strong governance and operational experience.
 "The combination of Capitalworks' track record in the region, backed by Aon's global expertise, leverage and economies of scale will bring clear benefits for our clients," Mr Cullen said.
Minet Group's Chairman, and Principal at Capitalworks, Garth Willis, says: "We are excited about investing in a world-class operation which is one of the leading players in Africa. We will be working alongside management to build on the Aon heritage as a trusted partner to clients in protecting the future of their people and assets in Africa.
"We are specifically looking to take advantage of opportunities to find solutions for the various local market needs and securing Africa's growing middle class. Capitalworks is looking forward to partnering with the Minet management team that has grown the Group to be the largest risk and human capital advisory network on the continent.''
Main risks covered under comprehensive car insurance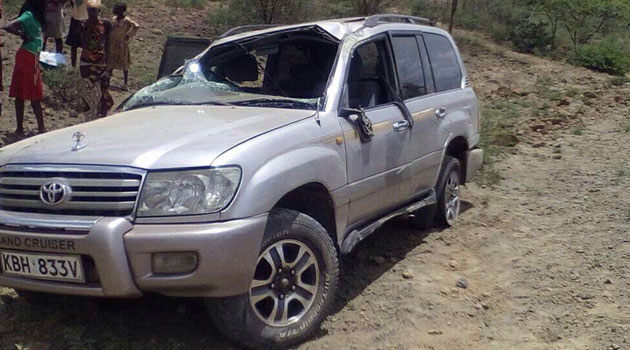 There are three main types of car insurance in Kenya namely Comprehensive, Third Party, Fire & Theft (TP&FT), and Third Party Only (TPO). The main difference between these is the scope of the cover that the insured party enjoys, with the minimum legal requirement being the TPO.
Here we will cover the 5 main risks that are covered under most comprehensive motor insurance policies in Kenya.
1. Third Party Liability
This covers the insured from liability arising out of the damage to third party persons and injuries caused by the insured vehicle in the use for which it is insured. Most policies cover damage to third party property damage from a minimum of KSh 10 million up to KSh. 30 million for private vehicles. For third party persons bodily injuries, the cover is unlimited. This liability is the most common insurance claim; it arises out of small to medium road accidents where the insured has crashed into other vehicles on the road causing both property and bodily damages.
2. Passenger Liability
This will cover the insured against any form of liability to the passengers of the vehicle. This liability may include lawsuits filed in the courts by the passengers seeking compensation for physical, mental, psychological and financial damages they have faced because of the accidents.
For Passenger Service Vehicles (PSV) this is charged for each passenger to be carried in the vehicle.
Note that the passenger liability does not cover the members of the insured's household so, if the insured is travelling with his/her family, the passenger liability will not extend to them. It is therefore advisable to purchase a personal accident cover or health plan for members of one's family to cover the cost of medical expenses as a result of a road accident.
3. Partial and Total Theft
Comprehensive car insurance also covers attempted theft and total/successful theft of the insured vehicle. Partial theft is when one or more parts of the vehicle have been stolen, commonly these are side mirrors, lights, grill, tyres. Total theft is when the entire vehicle has been stolen, it is commonly done as car jacking by organised crime gangs. For vehicles with anti theft devices and tracking devices, the insured pays a lower excess amount in the event of a claim.
4. Accidental vehicle damage
This is the most common damage to the insured vehicle. It covers everything up to dents to the motor vehicle caused by accidents on the road or even as a result of non traffic related accidents. Common in this category are glass damages, which include windscreen damage, window and lights breakages and dents.
Most policies will have a maximum limit for common damages like windscreen damage, which is up to KSh 70,000. A common clause that applies here is the 'NO BLAME NO EXCESS', this is where if the insured can authoritatively prove that he/she was not to blame for the accident/damage, then no excess charges are liable and the insurer will cover the entire claim.
5. Special Perils
Most Comprehensive motor insurance policies in Kenya also cover the insured against special perils like thunder, flooding, earthquakes and storms. The most common of these perils is the flooding which causes widespread damage and destruction during the rainy season.
Flooding causes road accidents while severe flooding even submerges motor vehicles on the roads causing total write offs as was the case in the el-nino rains that caused large scale destruction and loss of life countrywide in 2015/2016. The policy however doesn't cover man made events like war, terrorism and any other politically motivated events.
In addition to the 5 main risks covered above, it is strongly advisable that the insured add extra riders on this cover to increase the scope and cover against secondary risks. The three most common are:
In this article we have explained the main benefits of the comprehensive car insurance policy and listed some of the main extra options that should be added to the package to give extra protection to your vehicle. The insured should take every effort to understand the different limits that the policy underwriter provides for the above categories and also check the exclusions, terms and conditions for the policy. [source: Pesa Bazaar]