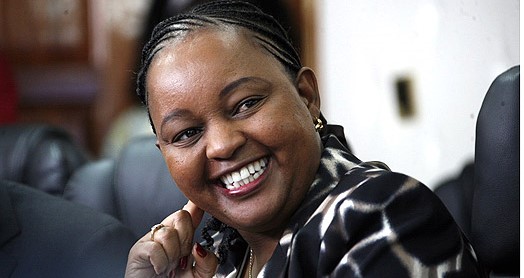 Anne Waiguru is at it again. This time she's talking wealth. The former Devolution Cabinet Secretary describes her wealth – which she figures at Ksh80 million – as nothing to write home about!
Speaking to Citizen TV, for the first time about her wealth, Ms Waiguru insists that she did not benefit from fraudulent transactions at the National Youth Service (NYS), in which the government lost over Ksh6 billion.
In an interview with Citizen TV's Hussein Mohamed on Tuesday January 10th, Ms Waiguru said she is worth Ksh160 million with liabilities Ksh80 million. "In terms of assets, including this house which is on loan, I'm worth Ksh160 million and the liabilities total to Ksh80 million. The net value is therefore nothing to write home about," she told her host.
Ms Waiguru, who is aspiring to run for governorship, dispelled claims that she had enriched herself from proceeds of corruption at the NYS, noting that she owned most of the things she has way before joining government. "I lived in Runda before I joined government and I own a house there. I also drove a Mercedes Benz before joining government so there is no way I could have benefited from fraudulent transactions at the NYS," she stated in transcription of the interview by Bizna.co.ke
"I worked at the World Bank and as the assistant vice president at Citi Group before joining government so the things I own were acquired legally."
Asked whether she was ready for a lifestyle audit, Waiguru said: "EACC is already carrying out a lifestyle audit on me and they have picked documents from our home that pertain to our lives."
The former CS noted that her house located in Kitusuru was bought under a mortgage plan for cabinet secretaries on a 3 per cent interest rate for 20 years.
She refuted claims that she bought three houses and paid in cash saying: "My house is not paid for and it did not cost Ksh150 million, only the deposit has been paid."
Ms Waiguru stated that she was saddened by personal attacks on her children; refuting claims on social media that one of her sons owned an Austin Martin that he was pictured next to. "My son is an ordinary teenager and would get a ride from people. We don't own the car, we can't even dream of owning it because it is very expensive. People go to motor shows and take pictures next to cars; it does not mean they own them," she quipped.
[crp]
She said reports on social media that she owns malls in different parts of the country are false, revealing that she too bargains during shopping. "I do not pay more than Ksh2,500 for my shoes and I bargain for every delivery. We declare our wealth after every two years in government and we did it when we were appointed into cabinet so my records are available."
"I wear the same jewellery that I have been wearing for the past six or seven years and people can see the same since my photos have been posted severally on social media."
She clarified that she helped stop a planned theft of Ksh800 million from the ministry, saying the investigations led to the revelation of Ksh791 million lost through fraudulent dealings with certain companies.
Anne Waiguru said the challenges she faced during her time at the ministry and the battles she fought have made her a stronger person. "It was a tough moment for me, but you cannot come out of such fire the same. I am stronger now than I was before and I am not naive anymore. I used to trust many people, but now I am very keen on who I trust," stated Anne Waiguru.
[crp]