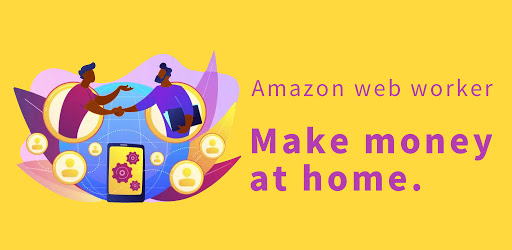 Several Kenyans have been left to lick their wounds after falling prey to an online ponzi scheme disguised as an e-commerce and referral app – Amazon Web Worker Africa.
Amazon Web Worker falsely claimed to be an affiliate of Amazon Inc. and was accessible via a mobile and web application. Users were paid for referring other users to the platform, a hallmark of similar pyramid schemes which have scammed Kenyans in recent years such as Public Likes and Live Auction.
Users were also  promised that they could earn between Ksh2500-Ksh5,000 in just 10 minutes every day by "helping Amazon merchants complete e-commerce orders ordering tasks through your mobile phone." It offered different membership tiers, each with its own perks.
As of Saturday, May 15, both the mobile application on Google Play and the website had both been taken offline – sparking panic from a section of Kenyans who had pumped their hard-earned cash into the service.
In conversations with Business Today, a number of victims revealed that the platform initially paid out, encouraging many to invest even more money and invite their friends. Mobile money messages seen by this publication revealed that deposits from users were wired to by Renak Technologies Limited while pay-outs were made by Kivaa Ventures Kenya Limited B2C.
The service started gaining traction in March 2021 in Kenya. Several people soon signed up, encouraged by their friends to do so for the easy money. Some went as far as to take loans for what seemed to them like a sure-fire investment.
At first glance, the well-designed mobile application appeared professional and painted the picture of a legitimate e-commerce service. Further more, its accessibility on Google Play which has stringent policies for admission of apps led many to believe that it was legitimate.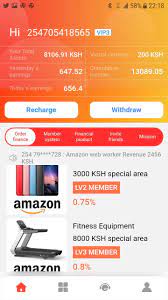 Soon after the app was deleted from Google Play, social media pages and mobile messaging groups associated with the service also went dark.
Users were left searching for answers, with some victims reporting that they had been blocked by people who lured them in on platforms including Whatsapp, Telegram and Facebook.
Frustrated, many of the victims are now taking to social media to share their experiences while calling for action to recover their lost funds.
The Directorate of Criminal Investigations (DCI) and mobile money provider Safaricom were flooded with requests on their customer care channels seeking assistance over the matter.
Amazon Web Worker – like the successful online ponzi schemes in Kenya before it – leveraged the promise of quick cash through easy digital work.
Red flags, however, were obvious from the get-go – including the focus on referrals and ambiguity on tasks being completed for payments.
Many pyramid schemes have as their backbone referral systems that ensure new people are constantly being lured in before it all comes tumbling down.