Why Alfred Mutua faces litmus test in Tuesday's polls
While the governor boasts of an impressive development track record – compared to other counties in the Kamba nation – this credential will be severely tested against the region's fierce loyalty to the Wiper party, come the August 8 General Election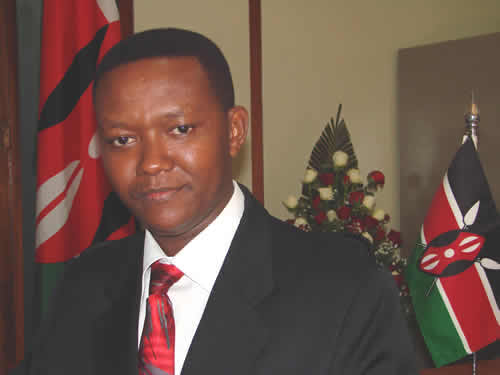 In the 2013 General Election, Machakos Governor Alfred Mutua easily rode to power on the back of a Wiper party wave that swept through the entire Ukambani region.
Having made reputation while serving as Government spokesman and with the full backing of the then Vice President and Wiper party leader Kalonzo Musyoka , Dr Mutua's candidacy was easier to sell and he beat his only competitor-  then Kathiani MP Wavinya Ndeti – by a huge margin.
Five years later, Dr Mutua faces arguably the biggest test in his political career so far as he seeks to retain his seat in Tuesday's elections.
The political circumstances seem to have come full cycle for the former government spokesman as he faces the same opponent, who now has the backing of Mr Musyoka, his former political master turned enemy.
The same Wiper wave that swept him and other Ukambani leaders to power is the same one that now threatens to nip his commendable gubernatorial career in the bud by denying him as second term in office.
Having fallen out with the Wiper leadership a few years back, Dr Mutua formed the Maendeleo Chap Chap movement to steer development but has since turned it into a political party on whose ticket he is seeking to defend his seat.
But Wiper is not taking this lightly and has nominated Ms Ndeti, formerly of the Chama Cha Uzalendo Party, in its bid to wrest the coveted seat from Dr Mutua's grip.
While Dr Mutua boasts of an impressive development track record – compared to other counties in the Kamba nation – this credential will be severely tested against the region's fierce loyalty to the Wiper party, come the August 8 General Election.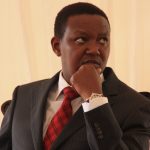 Whether Machakos residents will re-elect Dr Mutua on the basis of his much touted development track record now hangs in the balance owing the strong support that Wiper party has in the region.
Ms Ndeti, who ditched her party to join Wiper after signing a deal with its leadership, has now become Dr Mutua's main opponent. The other candidate is his politically estranged deputy governor Bernard Kiala, who is running as independent candidate.
Her nomination to fly the Wiper flag presents an almost similar contest as the 2013 General Election in which she was Dr Mutua's main challenger for the seat. Dr Mutua garnered 262,264 votes beating Ms Ndeti who managed 93,932 votes.
The decision to give Ms Ndeti the Wiper ticket again all but shattered Mr Kiala's dream to fly the same flag in the August polls.
Earlier, Ms Ndeti and outgoing East African Legislative Member Peter Mathuki – were battling within the Wiper party and managed to reach a consensus on who will fly the gubernatorial ticket but Mr Kiala rejected the party truce, prompting a long drawn-out court battle.
When Ms Ndeti was given a direct ticket in April with Mr Mathuki as his running mate, the move angered Mr Kiala and his supporters, as they threatened to ditch the party.
To forestall a fallout, the party organised nominations that saw Ms Ndeti win with 299,312 votes against Mr Kiala's 4,663.
Mr Kiala had obtained a court order stopping the nominations, but Wiper proceeded with them, saying they had not been served with the relevant orders.
This has raise political stakes with Governor Mutua often finding himself having to dismiss the Wiper nominations as "fake" arguing that the votes were 'cooked' even though it was  none of his business.
Dr Mutua's critics accuse him betraying the Kamba community when he ditched the Wiper party to form Maendeleo Chap Chap.
Businessman Dee Kivuva, a Wiper party die hard, said Governor Mutua should concentrate more on the county's politics and not others.
"Governor Mutua is not seeking a national position and that is what he must understand. He should ask Machakos County residents to elect him and stop moving all over the country," Mr Kivuva said.
Mr Kivuva says the business community has suffered heavily under Dr Mutua administration and cites his failure to pay merchants who have provided goods and services to Machakos county government as proof of failed leadership.
"The people of Machakos need water for domestic and agricultural use, reliable power not flower beds and paintings and branding on the roads" he said adding Dr Mutua's priorities are lopsided and meant impoverish the residents.
He quipped: "How do you justify spending millions on phony projects like Machakos Peoples Park when people have no water in Machakos town"
Corruption is another agenda that the governor will have to confront as he has faced numerous questions of impropriety in award of contracts and irregular procurement dealings by Ethics and Anti corruption Commission.
Mr Kilala who has since withdrawn from the race in favor of Ms Ndeti said Dr Mutua does not believe in devolution, was intolerant to criticism and does not give other leaders opportunity to serve people.
"For four years, the governor has not been able to devolve powers to constituencies and villages because until today, the county does not have village managers neither does it have ward administrators.
"This is the scheme that he has been using to enhance corruption in his government," Mr Kiala said.
But supporters of Dr Mutua have vowed to re-elect him regardless of his party, saying that he has transformed Machakos County through the development projects.
Over the last five years, Dr Mutua has maintained a high profile, launching major projects that critics and allies agree have transformed the county.
They include construction of tarmac roads, digging of boreholes to address water shortage effects and the Machakos people's park.
In an interview, Dr Mutua accused his opponents of resorting to cheap propaganda in their campaigns against him.
"Gone are the days when we could allow tribal politics. Those accusing me of betraying the Kamba community are people who want to perpetrate politics of poverty.
"My development record speaks for itself and I am confident that Machakos residents will elect me," he said.
NEXT: Ensure a peaceful election, Vision 2030 chief urges