Radisson Hotel Group is set to launch its lifestyle themed hotel brand Radisson Red in Abidjan, Ivory Coast in a move that propels the hospitality management company's expansion of its "millennial aspect" hotel to other cities across Africa, including Nairobi.
The second of its kind in Africa, the Radisson Red in Abidjan will debut in October 2020, three years after the "art, music and fashion" inspired brand first landed on the continent with the Radisson Red Cape Town in South Africa.
Radisson Hotel Group said it expects the move to be a disruptor that will shake up the Ivorian hospitality industry with the new hotel set to be located in the Plateau commune, Abidjan's central business district.
The Ksh3.5 billion deal to confirm the Radisson Red Abidjan was signed between the hotel group and Ivory Coast's Phoenix Property Investment on October 1 at the Radisson Blu hotel in Nairobi, Kenya.
At the signing, Radisson Hotel Group Senior Vice President Development Sub-Saharan Africa Andrew McLachlan said Nairobi, alongside Dar -es Salaam in Tanzania and Addis Ababa in Ethiopia could potentially be future destinations for the Radisson Red brand.
The Radisson Senior VP said Nairobi fits the criteria of identified cities across Africa with the "markets", "understanding", and "sophistication" to accept a Radisson Red.
"In East Africa, Nairobi would definitely be the place to establish a Radisson Red because the city already understands startups and the millennial mindset. It's not a brand that will go to every city in Africa but Nairobi, particularly the areas between Upper Hill and Westlands are ideal."

Andrew McLachlan, Radisson Hotel Group Senior Vice President Business Development Sub-Saharan Africa
Mr. McLachlan added that the success of the Radisson Red model is in its capacity to charge unique premium services for a lifestyle product while managing to have a lower investment on building the hotel as opposed to other all-round hotels.
Already in Kenya, Radisson has the Radisson Blu Hotel that is situated at Upper Hill, as well as the Radisson Park-Inn in the Westlands area. Next year, the company intends to open a Radisson Hotel and Apartments next to the Aboretum Park.
The Abidjan Radisson Red is a four-star upscale hotel that will house 165 rooms comprising of studio rooms and suites which will feature bold wall graphics and a design with attitude. The hotel will also have a rooftop bar as well as a terrace which Radisson says will feature panoramic city and ocean views.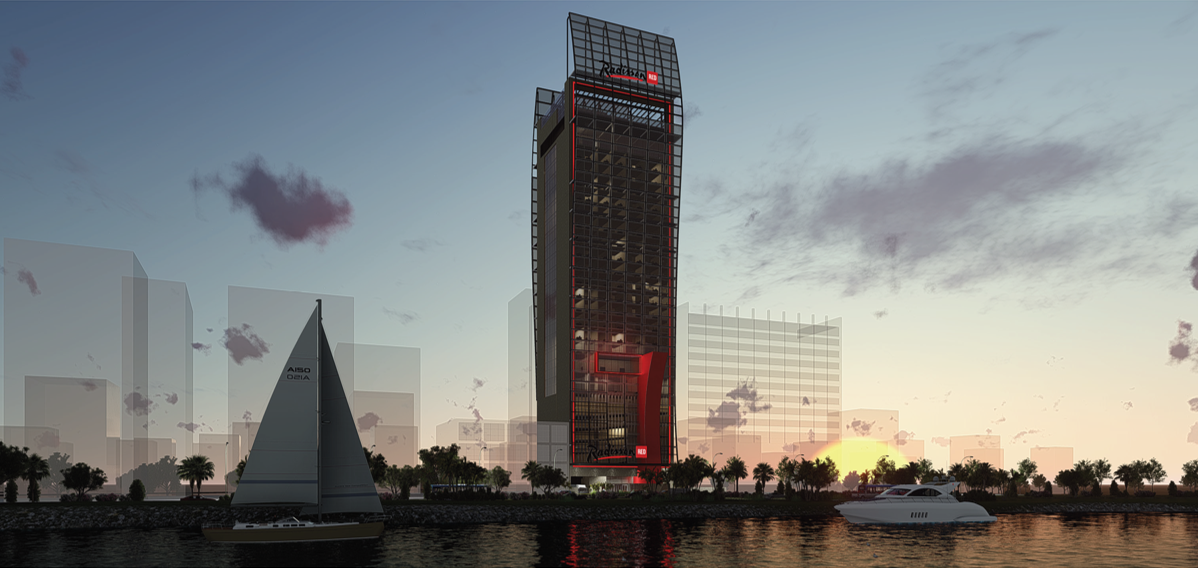 "It's a different brand targetting the youthful and infusing a bit of energy. The style is different, casual as staff where jeans and t-shirts," said Mr. McLachlan.
Phoenix Property Investment Chairperson Isaac Kelekele Kasonga said the deal is more than just a partnership but that the hotel owners feel as if partnering with Radisson was akin to engaging with family.
"We partnered with Radisson because of their success in Africa as they understand the African market," Mr. Kasonga said.
Radisson Group Director of Business Development Sub-Sahara Africa Erwan Gardiner said of the deal, "This is one of the fastest growing economies in West Africa. Abidjan is a financial hub with a lot of business demands. So it's a very logical step for the Group considering that we have a Radisson Blu at the Abidjan airport and a Radisson under development in Plateau."