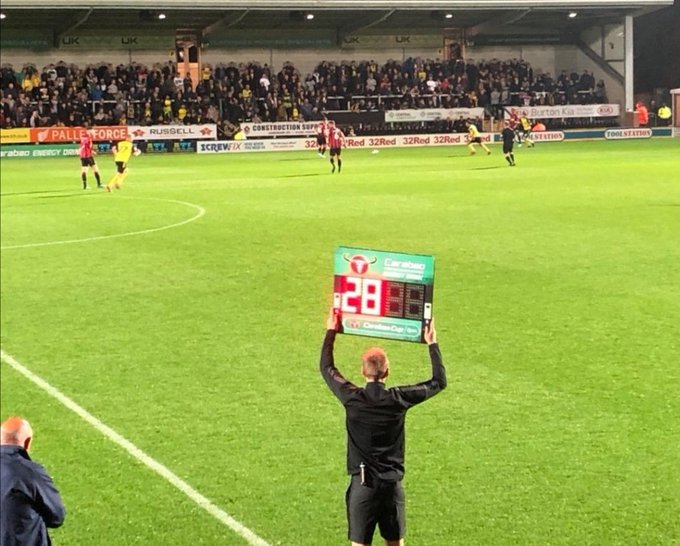 English League One side Burton Albion won against English Premier League side Bournemouth in an interesting League cup fixture on Wednesday.
Burton won the match 2-0 in the match that saw 28 minutes of stoppage time. The match makes history as the longest stoppage time in Football. Arsenal's Premier League clash with Westham in 2013 was initially the match with the longest stoppage time. The match saw 12 minutes 58 seconds added after several i******s took a lot of time during normal playtime.
The match between Burton and Bournemouth was delayed three times by floodlights failures at Burton's official ground, Pirelli Stadium. The game was plunged into darkness and almost abandoned before goals from Matija Sarkic and Nathan Broadhead saw their side into the next round.
Angry fans had left the stadium after the third floodlight with the score still at 1-0. Some fans had to head back when the game was restarted in farcical scenes. An incredible 28 minutes of added time was called and the Brewers doubled their advantage soon later.
According to Ben Robinson, referee John Busby was ready to abandon the game before the Football League stepped in to allow the tie to finish. The failures took place within a 30 minute cut off point permitted by the EFL for the teams to return – which they did with two minutes to spare.
"There was an official here from the Football League who came down to the tunnel and took responsibility off the referee," Robinson said as quoted by The Sun, "He was in touch with the Football League and it was quite simple, that if the electricity came back on again within six minutes (of the 30 minute cut off point) the game would go ahead."
"If it went off again the game would be abandoned," he added.
The power outage also affected locals living around the Pirelli Stadium in Burton, England. Thousands of homes were without electricity after the power surge caused the problem.