Employees at Radio Africa Group have been told to "shape up or ship out" as the company prepares to transform its business model in line with a tightening media industry.
In a communication to staff on Wednesday, Group CEO Patrick Quarcoo made it clear Radio Africa will move away from the old ways of doing business and embrace digital technology as that is the only way to stay afloat amid dwindling advertising revenues.
And in a clear warning that no complacence will be entertained, Quarcoo told staff they must meet personal, contractual as well as formal and implied targets. His parting shot in the memo was chilling: "Strap your seat belts on and prepare for the ride of a lifetime!"
Mr Quarcoo, the principal partner in Radio Africa operations, said the company will seek to deliver bottom line growth in its traditionally mature business but will also go flat out to engage and grow audiences on digital or non-digital platforms.
The communication, which was made to mark the beginning of the new financial year which runs from July 2016-17, also says the company will rationalise costs in line with the industry's challenges by cutting out duplication and waste, an indication of product and staff redundancies.
According to Quarcoo, Radio Africa will aggressively invest in digital technology and deliver "aggressive" returns, declaring 2016/17 a year of "Deliver or Ship Out."




Media houses have lately been feeling a financial squeeze brought about first by digital technology that has ushered in more competition and, recently, a move by government to centralise advertising, which has tightened the public ad spend purse. Advertisers are also moving to cheaper and more targeted online platforms while digital migration has brought in stiff competition for broadcasters.
In fact, there are fears that Radio Africa is likely to follow Nation Media Group's recent decision to shut down all its radio studios and move broadcasts online, rendering hundreds of staffers working for Nation FM, QFM and KFM redundant. Swahili TV station QTV was also merged with NTV.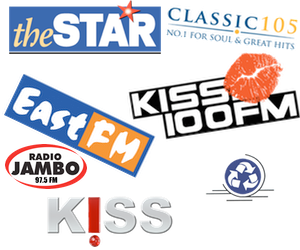 Radio Africa operates six radio stations, namely Classic 105, Kiss FM, Radio Jambo, East FM, XFM and Jambo Turkana. Only Classic 105 and Radio Jambo are doing well at the moment. Kiss FM has been competing with XFM for the attention of mostly urban youth and one seems to cannibalise its sister. One may have to give way.
Recently, Radio Africa effected changes that saw Kalekye Mumo replaced by Adelle Onyango at Kiss FM breakfast show in what was seen as a move to bring a more youthful presenter to appeal to its traditional young listeners.
The CEO revealed he has over the past one week been having a series of back-to-basics meetings with the sales team and would be meeting on-air and content teams as well other divisions to deliver these "key" messages.
"I see an exciting future where our front-line radio presenters, transform and expand their roles, becoming new digital, eventing, pod-casting, multi-media and multi-faceted media marketing personalities," he said.  "We will demand more from our clients and audiences. We expect the same level of programming Monday to Sunday and a 24/7 digital commitment to the company's brands."
Mr Quarcoo said Radio Africa content teams must also be more than first with the news and become more predictive, more analytical and more perspective than competition.
"Our management team and I will need to build the best digital and mobile first products to meet the needs of Kenya's new millennial," he added. "It will be a new and challenging era ahead of us in the next 20 years. I am ready and excited about it."




NEXT READ