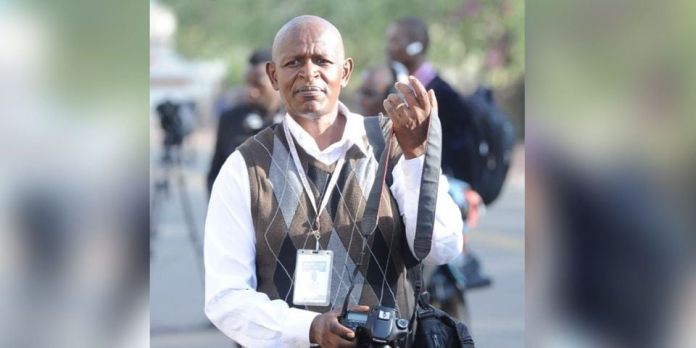 William Oeri, the man who switched careers from the army to journalism and took some of the iconic photographs at Nation Media Group, has perished in a roach accident. Oeri died on Sunday evening when his vehicle burst into flames after a head-on collision on the Kenol-Sagana Road.
Mr Oeri worked with Nation Media Group for 15 years, rising to the position of deputy photo editor, before joining People Daily newspaper where he had been working when he met his death.
Related >> Oeri Daughter: Dad Gave Us Goodbye Messages
"It is a sad loss to us as colleagues and friends. We have been in contact with his family," said  People Daily Managing Editor, Mr Ng'ang'a Mbugua, who added that he last spoke to Mr Oeri on Thursday last week after he requested time off to visit his in-laws in Kirinyaga County.
William Oeri had joined NMG from the Airforce after being fired for taking a photo of a military plane at Eastleigh airbase and giving it to Daily Nation newspaper. With a soft landing in the newsroom offered by Daily Nation, Oeri quickly adapted to the new system and established himself as a professional photographer although he occasionally struggled with journalism language.
The fatal accident occurred at Kitini area as he drove his Toyota Wish towards Kenol town. He was involved in head-on collision with an Isuzu tipper, police say. Mr Oeri's car burst into flames on impact but members of the public put off the fire using sand. Mr Oeri died on the spot while the driver of the tipper, together with his two passengers, sustained minor injuries.
A diary in which the photojournalist recorded his New Year resolutions was recovered from the scene. He had written a commitment and prayer to help his daughter achieve her education dreams as well as a wish that "my family heals and remains together in love".
With symmetrical gaps in both his upper and lower teeth, Oeri was a hard-to-annoy guy. He would often tease news subjects into smiles and fits of laughter as he sought that perfect shot.
Read >> Senior Editors Out As Standard Group Lays Off Journalists 
TRIBUTES TO WILLIAM OERI
Luke Mulunda, Editor, Business Today (former Nation Business Editor)
William Oeri is one of those people you struggle to find the right words to describe. I met him when I joined the Daily Nation Business Desk in 2006. While older, he would still submit and listen to my directions on the kind of photos I needed.
I fondly remember Oeri when I interviewed Michael Joseph as he exited Safaricom where he had served as CEO for about a decade. I was also assigned Oeri for the first media interview with Bob Collymore, Joseph's successor. Oeri was in his best element, cracking dry jokes and giggling – occasionally asking some questions to spice up the interview. I later realized he had taken photos of the shoes of both Michael Joseph and Bob Collymore and later graphically compared the two pairs.
Kwamchetsi Makokha, editorial consultant (former Nation editor)
William Oeri disarmed you, always. The first time I stumbled into him in the newsroom (if you want to fool people you are thinking, you walk staring at the carpet), he apologised, turned on his gap-toothed smile and introduced himself. He did not have the ex-soldier braggart tag on him, and we never got to speak about his time in the armed services.
He had immersed himself in the newsroom at the bottom of the food chain with an attitude that said, I am here to learn. But that deceptive simplicity and raw humanity not only got him to the places where he would witness tragedy and greatness, but also allowed him the inner eye to see pain and record it.
Between him and Joseph Mathenge, they allowed me in very junior editorship years to grow by showing up to discuss what pictures I would need when assigning a story. That picture of Miguna Miguna laughing/smiling while holding his spectacles away from his face? That was Oeri. We are diminished by your loss.
Wahome Thuku, lawyer-cum-journalist
Shocked to learn of the death of my former colleague, photojournalist William Oeri in a car accident. I worked with Oeri at the NMG for several years. He had joined NMG from the Airforce having been fired for taking a photo of a military plane at Eastleigh Airbase and giving it to Nation. He was later fired by NMG and joined Media Max.
Oeri has done a real good job in the media. I am sure I mourn him together with my other media colleague Lempaa Soyinka Lempaa. Rest in peace bro. My condolences to family.
May his soul rest in eternal peace.
Next Read >> The Making Of Business Daily: The Boardroom Wars And Mind Games