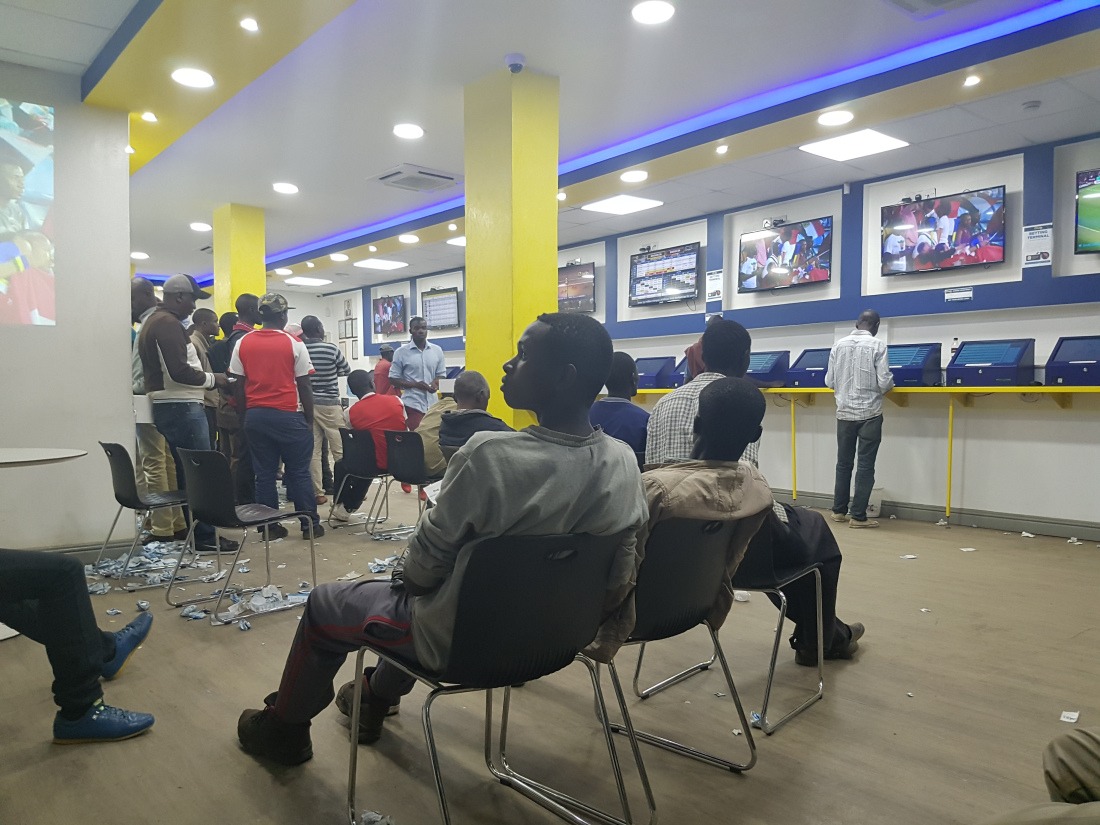 On several occasions, Kenya has been labeled a g******g nation as g******g platforms' numbers continuously increase. It all started with simple football b*****g as the practice further grew to other sports until now when mainstream media is filled with adverts of lotteries as well as sports jackpots.
We now have several lotteries in the country that promise to award winners as high as over Ksh 100 million. Apart from football, other popular sports in virtual b*****g include horse and dog racing as well as spinning the wheel.
Most Kenyans result in g******g because of financial difficulties while very few do it for fun. To some it is like a career, a day can't pass by without having gambled in one platform or another. Some prefer lotteries while others prefer ordinary sports b*****g. Distinguishing an a******d gambler from one who does it for fun is as easy as checking the amount of money they anticipate to get from the vice.
G******g has evolved in the country to a level that should raise an alarm. The government's decision to enact laws that will see jackpot winners pay taxes does not seem to work. Who wins the jackpot anyway?
Comparing a handful who have won jackpots to the millions that gamble every day with the hope of winning, it clearly shows how g******g still is a huge problem in the country.
It has come to a point where sports b*****g is not even considered as g******g with the coming of more g******g platforms that solely rely on luck. Talking of luck, sports g******g is slowly turning to be one of the practices that rely on luck. Well, it is not sports b*****g per se but virtual sports b*****g.
Virtual sports b*****g is taking over the normal b*****g in a wave with almost every sports g******g platform venturing into it. It seems easy and fast to win when you bet a virtual b*****g than it is in a real game.
Most of the b*****g shops are equipped with super-fast computers, teller machines, screens, TV sets, stationary, posh furniture, ticketing machines and free WiFi.
For those who might not understand virtual b*****g, it is where the teams are not real and the matches are simulated by a computer. The outcome of the match can go either way and predicting these matches right is just a matter of luck. Some think they can master the patterns of the wins but it is very difficult to predict computer patterns.
To know how virtual b*****g has taken the g******g Industry in a wave, just witness the amounts of people in the recently trending b*****g shops. Owned by sports b*****g company, Betin Kenya, the b*****g shops are mainly used by customers placing bets on virtual rather than real games.
Visit any b*****g shop and you will bear witness that they are full of people who are always hopeful to win big at the end of the day. They do win, sometimes, but the amount of money they win and the amount they lose is not the same as the latter surpasses the former.
The only thing that keeps them there are the rare wins they get. What if those rare wins are programmed into the systems? You know, to keep you playing for long.
This is what you might not know about virtual b*****g, the matches are computer generated and they, therefore, follow the laws, the commands and the instructions stored in cache memories initially created by a programmer. As an end user, you've been offered a platform to risk, because the match results of any given team have been mixed randomly even though the master user always knows how the results will turn out.
In virtual b*****g, the teams are not real but the teams' names are produced from common teams most people know of. It is easier to mistake a team you know performs well in the real world to a team with its name in the virtual league.
Take Barcelona, for instance, they are an exceptional team in the real world but put your money on it and you will be surprised to see it lose to a poor team in real life. It is only in the virtual sports world that you would see Manchester City lose by four goals to Portsmouth. In the real world, Man City would thrash Portsmouth by not less than five goals.
Most sports b*****g companies are using this to generate huge profits in their businesses. Some even go further to introduce other virtual g******g techniques like spinning a virtual wheel to reveal your winnings or even rolling virtual dice. This is going on while Kenyans lose thousands of shillings in just a matter of hours. Although, if it is your lucky day, which can hardly be, you gain thousands of shillings in a matter of hours.
For those who are idle, getting a******d to this is very easy, bag a few wins and you will be convinced that the b*****g company is giving away free cash. Well, it's not. You can bet that the servers are programmed to ensure the company makes profits and not losses.
According to blackorwa.com, dog racing is the most popular because, instead of waiting for 90 minutes to know whether one is lucky in a football match, you have to only wait for one minute, which is the duration for each dog-race
"Man's best friend has once again come to his master's aid by providing a means to make quick. However, in this competition only Greyhounds are invited – they are baited with a dummy moving rabbit and they chase it to the finish line once the gates are open. Gamblers keep watch on the number and colour on the dog clothing hoping their b*****g combination matches the outcome," the blog says.
Venturing into virtual b*****g is no different from playing the lottery, everything is left for chance. Winning takes luck and if there is anything you cannot be sure about is luck.
Stay woke, place bets on virtual games knowing that what you are doing is no different from playing the lottery.