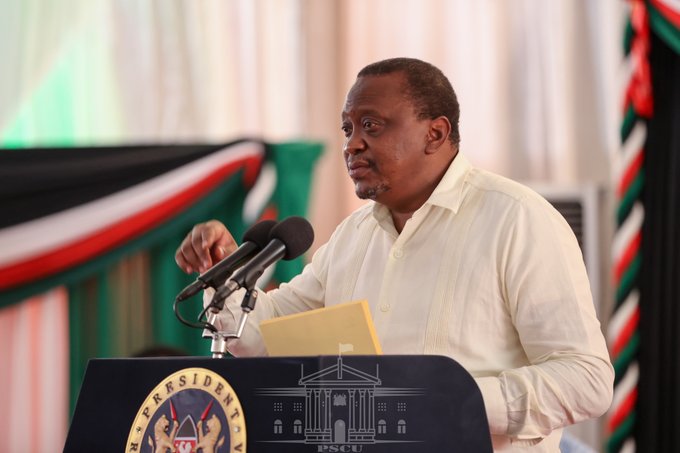 Speaking during the launch of the BBI signature collection drive at Kenyatta International Convention Centre (KICC), The Head of State scoffed at Kinoti's intentions and made it explicitly clear that course of action would not be pursued under his administration equating the idea to reopening old wounds.
"Those attempting to dig up old graves, I learnt of it through the newspapers. They should tread lightly on matters such as this and given where I stand, I will not accept such. Those are bygones and we will leave them in the past," said President Kenyatta.
"Some of you don't think. You must always proceed with caution in such matters," added President Kenyatta.
According to Uhuru, the cure for the country's divisions and dark past can only be found in a new constitution.
"We know the importance of peace and that is why we are making plans to take the country down a new road of prosperity through legal and constitutional means so that Kenya can move to the next chapter," the President said.
This comes after the DCI's comments triggered a political hailstorm triggering a counter-lashing from Deputy President William Ruto's Tanga Tanga camp.
In a press conference on Monday, Kinoti said that some victims of the 2007/2008 PEV had reported new threats against their lives hence the need for fresh investigations
"We have registered around 72 cases from those whose wives, husbands, children were killed. We have recorded cases of some who were driven out of their homes. We have 118 cases in total registered today with complainants and witnesses," he stated.
"I do not want to regionalize cases by stating the regions from where those who have registered the cases come from, as DCI, we are welcoming all Kenyans afflicted by this problem," he added.
It did not take long for Ruto's camp to fire back alleging political witchhunt behind Kinoti's motives.
"Kinoti and his handlers are back in town. It is clear that Kinoti and his masters only wish to cynically exploit the terrible trauma of PEV to anchor a diabolical divisive political agenda, distract attention from his paymasters' political frustrations and incite communities into violent conflict," Nakuru senator Susan Kihika said during the conference on Monday flanked by Tanga Tanga allied lawmakers.
Kinoti, however, retracted his earlier comments in another press conference on Tuesday stating that his office would not reopen any closed cases but rather investigate new threats to the victims.
"My address yesterday was in no way intended to mean that we are going to open completed cases which were investigated and closed. It was an acknowledgement of concerns raised by Kenyans, to assure the public of the commitment of the DCI to investigate all reported threats to security and to sensitize the public on the need for peaceful co-existence," stated the DCI.