The government on Tuesday, November 3, awarded a 2,000 acre farm to the Nairobi National Park to support conservation efforts.
President Uhuru Kenyatta handed over a title deed for the land previously known as the Sheep and Goat Research Facility to the Ministry of Tourism and Wildlife. The land will be under Kenya Wildlife Service (KWS) protection.
The piece of land is located adjacent to the national park. The formal acquisition of the title deed means the park will enlarge from the current 29,000 acres to 31,000 acres.
"For the first time since the Nairobi National Park was gazzetted, the government is allocating more land so as to conserve it for posterity," Uhuru stated.
The land will provide a wildlife corridor on the Southern side of the park, connecting NNP, Swara and International Livestock Research Institute (ILRI) conservancies in Machakos and beyond.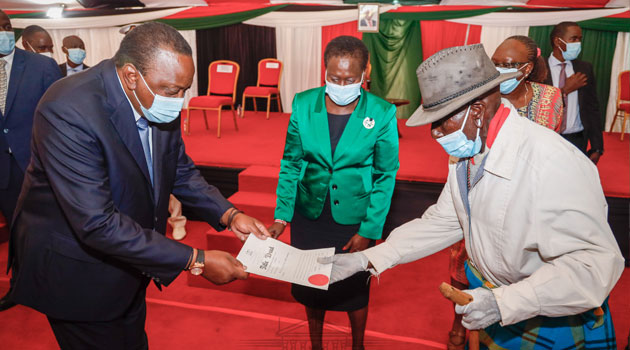 "Giving the title deed to Nairobi National Park enables the park to secure the much needed space for wildlife and is a clear testimony of Kenya's commitment to wildlife conservation. We must secure more space for wildlife habitat for posterity," the President asserted.
The expansion comes at a time when environmental activists have decried increased human activity, construction and development in the park, including construction of part of the Standard Gauge Railway (SGR).
The park holds a unique distinction as the only national park located in a metropolitan area anywhere in the world.
In a statement, the Ministry of Tourism and Wildlife noted that the park also faced threats due to human settlements adjacent to it.
"Due to reduced space for wildlife in the park, several animal species occasionally move out of the park to the adjacent communities in search of forage and water. In the process, it leads to human-wildlife conflicts outside the park.
"The Sheep and Goat Research Facility will therefore provide additional habitat to wildlife resulting in reduced conflicts between wildlife and people," the statement read in part.
The President also handed over a title deed for the 119,000 acre Maasai Mara Game Reserve to the Narok County Government.
He also launched the issuance of 10,000 title deeds to residents of Samburu county. He argued that it would go a long way in eradicating conflicts over community land.
"For a long time community land has not been titled and in some areas this has been a source of disputes. We want to solve that problem by issuing title deeds so that communities, with their leaders, can decide how that land will be used according to the community needs," Uhuru maintained.