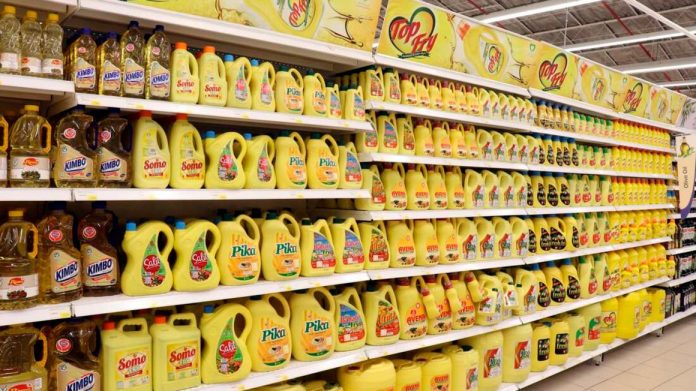 UPDATE (September 27, 2022):
KEBS issued a new statement noting that specific batches of products from each of the listed manufacturers had been recalled, but maintained that products currently available in the market were not affected.
—
In many shops and on the shelves of supermarkets in Nairobi, Kenya today – Monday, September 26 – you will still find the ten cooking oil brands suspended by the Kenya Bureau of Standards (KEBS) last week, as established by a Business Today spotcheck. The directive affected many of Kenya's biggest manufacturers including Menengai Oil, Kapa Oil, Bidco and Pwani Oil.
The brands are Bahari Fri, Fresh Fri, Fresh Fri with Garlic Oil, Fry Mate, Gold n Pure Olive Gold, Postman, Rina, Salit, Tilly and Top Fry. A KEBS analysis of samples found them not to be compliant with requirements on iron levels in fortified edible oils and fats.
KEBS had notified the Retail Traders Association of Kenya (RETRAK) to inform its members to pull the products off the shelves until the requirements are met and verified. The standard sets the requirement for Iron as 2.5mg/Kg max.
"This letter was followed by another letter to Retail Traders Association of Kenya (RETRAK) to withdraw the affected products from the shelves to allow the manufacturers time to undertake corrective action before bringing them back," a statement issued by KEBS on September 23 read in part.
KEBS noted at the time that the affected manufacturers had taken action including recalling the affected batches.
The body stated that it was keen on ensuring that the oils coming off the production lines going forward meet the standards, stating that it was engaging the Kenya Association of Manufacturers (KAM) to ensure compliance.
"In the meeting, KAM committed to ensure that only compliant products from their membership will be released into the market," KEBS noted.
News of the suspension, which affected some of the most widely-used cooking oils in Kenyan households, sparked widespread alarm, health concerns and a deluge of misinformation. To assure Kenyans, KEBS noted that it had not banned the products but only suspended them, exuding confidence that the concerns would be resolved.
"KEBS hereby informs the public that there is no cause of alarm in the edible oil industry and as soon as the manufacturers demonstrate compliance, the public will immediately be notified."