Startup reaping big from e-commerce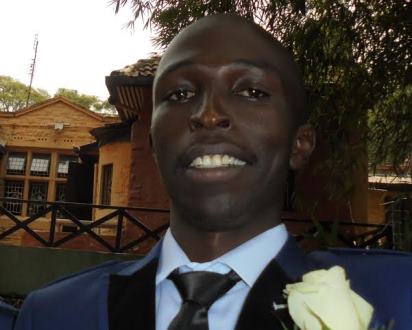 Two gentlemen on a mission to democratise e-commerce at the prime internet age of 21st century are counting their blessings. They are not only achieving their dreams for turning a coincidental idea into a money minting project but also defining Kenya's e-commerce with a bang.
They founded Soko Huru, Swahili word for 'free market', an online portal that has bridged the gap between two or more distant willing sellers and willing buyers.
Sammy Subu, a graduate statistician, and Raphael Kinoti, a final year student of Computer Science at the University of Nairobi are the central force behind Soko Huru. "Soko Huru is a passionate community of buyers and sellers that is driven by a culture of openness, trust and reliability," says Subu, 28, the founding CEO.
The idea behind their business venture is a tantalising one considering two men who did not believe that many years on Soko Huru would be the talk of town. It was born out of necessity and by accident.
"We did not plan to create this site for people to buy and sell," says Subu. "One of the founders wanted to promote his juice business but did not have money to pay for Facebook and Google ads."
They then embarked on a unidirectional brainstorming session, which gave birth to the company that generates enough income, so they say. "We started with a small Facebook group and when transactions started happening we decided to launch the site," he says.



E-commerce in Kenya is on the rise thanks to a growing number of people owning smartphones, which created more job opportunities as well as digitised shopping. This has led to a new trend, where the seller hardly meets the buyer thus opening avenues for Soko Huru and likes.
"We are on verge of e-commerce revolution and Africa is on the rise. We have seen massive growth in the number of internet users due to increased access to smartphones."
Their personal savings and aid from friends enabled them pump Ksh500,000 into the business, though skeptically, as none of them believed it would work. They have now moved and target to hit millions of shillings from investors and take the business to the next level.
"At beginning we were not ready to take outside investment since we had not yet figured out a working business model and we were still refining product. We still feel that we don't have a perfect product but we are ready for massive adoption," confides the soft-spoken Sammy.
Right tools, right audience
 For Soko Huru, social media is their heaven on earth where they monitor and respond to responses from a variety of clients. "Social media powers Soko Huru. In order to have a vibrant, open and passionate community we have to be visible on social media. This boosts trust and promotes our culture of openness," he says. Soko Huru boasts over half a million Facebook fans and ever-expanding Twitter audience, now at 50,000 followers.
The way it is
All a seller needs to do is post their products on the platform then Soko Huru creates more visibility to attract interested buyers. "If the sellers want more visibility they pay for our services which include premium listings or monthly subscription fee or activate our different advertising packages," says Subu.
Soko Huru has created job for like-minded entrepreneurs, as it comprises five people on "secret mission of changing the way Kenyans buy and sell online."
They, however, have to grapple with funding due to near death experiences and solving trust issues, delivery challenges, sometimes due to high traffic on the site and on the roads. E-commerce sales in Africa are projected to grow annually by 40% in the next 10 years, a revolution that shines a ray of hope to Soko Huru.



See Also: Friends who have turned drawing passion into big business
Perpetual Kendi: Emerging queen of international PR
Perpetual Kendi's PR company handles public affairs for Kenyan international football stars, powerful politicians and top designers
For most millennials, college days are only meant for study work and fun. If they have to work, it's only during field attachment where they play hide and seek with supervisors. They only play nice people towards assessment, just to some earn marks.
This is not the case with Perpetual Kendi, who is in her mid-20s and already a CEO and pioneer of an international public relations (PR) company, Addleston Marketing. She secured her first job in her second year in college, which only lasted three months before the company collapsed. She earned what most modern graduates are tarmacking to earn, Ksh25,000 per month.
This pushed her to look for new opportunities, and secured an interview with a Lavington-based organization, but the demands were too much for her. "They would only pay me Ksh25,000 a month if I earned them Ksh250,000 per month.  It would not be possible then for a starter, however ambitious I was," says Kendi.
She left the interview a frustrated lady. She boarded a bodaboda back home. Out of her sociable nature she struck a conversation with the bodaboda rider, and they started talking about the elegant houses in the leafy suburbs of Lavington, which cost around Ksh180 million.
Selling belts
Quick calculation showed that she would work for 600 years without spending to afford such a house. But her dream was to own such a house one day. This wiped away the idea of getting employed, and that's how she stopped applying for jobs.
The Kenyatta University Bachelor of Commerce (marketing) graduate was catapulted into business by a belt she bought at Ksh50, which her friends admired. She took the opportunity and started supplying them with such belts at Ksh150, and before she realised her business was growing. She would even persuade unwilling students to buy the belts and realised her greatest strength: persuasion.
Determined to make it big in life, she registered her first company in her third year in campus, with which she did general business with the government and NGOs. This set the stepping stone for her, as she registered another company later, the Addleston Marketing, which shone her star more and brought her to the limelight.
"Moving beyond the realm of traditional public relations and marketing tactics, we dare to go where most PR agencies won't: creative strategy, branding, video production, social media management, guerilla efforts, and even some advertising," says Kendi.
The four-year-old company has been her main hustle, despite facing turbulence in the first three years. She earns a relative amount every month which is enough to run the company and commit on expansion. She calls it a journey of structuring and restructuring, but most important to her are the lessons learnt in the art of delivery.
At one point, her bid was rejected by a company after the managers said that her brand was not big enough to handle the company's products. It was one of her lowest moments.
The company is now handling public affairs for Kenyan international football stars and powerful politicians. She is also working with the country's top designers, some working with the President and prominent people.  Recently, an international organisation that is planning to carry out an insurance penetration campaign approached her company for publicity and brand entry, not to mention for the global brands that she has laid her hands on.
In what she terms as her best assignment of the moment, she is involved in a mega infrastructural project, where she is the only lady and the only youth. The rest are men, in their latter days. This makes her feel like a lioness in a pack of lions. In total, her company is engaged in projects that she describes as revolutionary and game changing.
Growth is a process
Kendi, who still has interests in finance, says that she chose to venture into international PR and media relations solely because of their (international media) objectivity and reliability.
When asked how she will outshine the existing PR and marketing companies, she says: "I am not competing against them. Everybody has a share. Growth is a process, and not a competition."
Addleston will be re-launching next year to celebrate a five-year milestone. They will also be opening offices in other African countries in regions such as West Africa and North Africa.
The second-born in a family of Architects draws her inspiration from Daniel Ndonye, who has been her mentor. Mr Daniel Ndonye is the Chairman at I&M Holdings Ltd, AccessKenya Group Ltd, AutoXpress Ltd and a board member in many thriving companies.
Despite being involved in business, Kendi is  launching  a campaign against cervical cancer, which she says is prevalent in her rural area.
Kendi is comfortable with her personal and social life, looking to push her business agenda forward, before settling for marriage. The ever bubbly and funny lass enjoys her free time in nature and plant exploration and sometimes physical exercise.
She advises graduates to get professional experience first through employments and internships before trying to go solo. "Many times I do not know what I am doing and  the risks I'm getting into but I know the kind of woman I want to become, a mother,wife and friend," she ends.