Seven students die in Moi Girls School fire
Education Cabinet Secretary Fred Matiang'i said 10 other students were injured and are admitted to hospital. (Scroll down to read story)
Seven students have reportedly died and dozens others injured after a fire burnt down a dormitory at Moi Girls School Nairobi. Education Cabinet Secretary Fred Matiang'i said 10 other students were injured and are admitted to hospital.
"Out of the 10, two are in critical condition, doctors have told us the other eight are out of danger," he said.
He said the school has been closed for two weeks as investigations begin on the cause of the fire.
The CS, however, said Form Four candidates will resume on Friday and will be assisted to settle as they prepare for the Kenya Certificate of Secondary Education examinations.
He said a team of forensic experts, including the government pathologist are at the school to establish the cause of the fire.
He said the school principal has asked parents to pick their children. Dr Matiang'i, was accompanied by Education Belio Kipsang and Nairobi Governor Mike Sonko.
Pastors drive out accident ghosts on Thika Road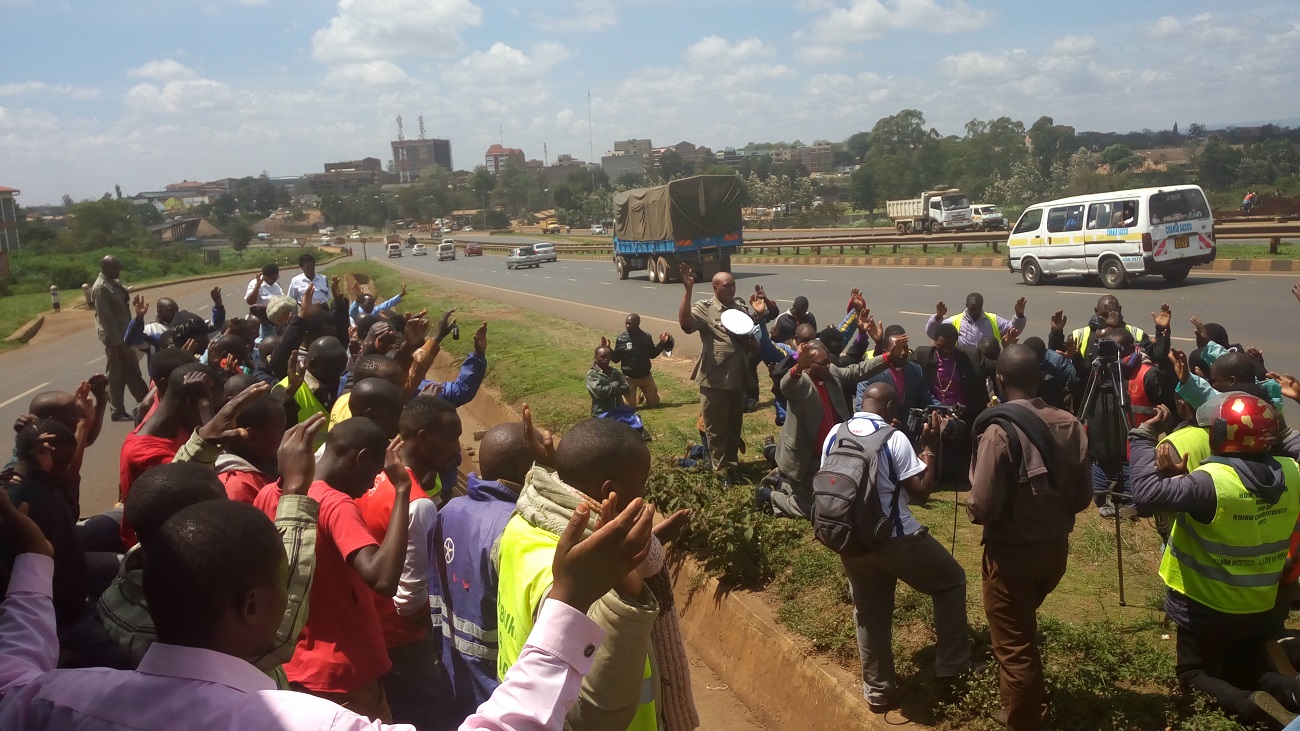 Church leaders and residents from Nyeri and Kiambu Counties Friday held prayers to cleanse and bless the busy Thika Super Highway, which has become a death trap, especially during festive seasons.
Christians from different denominations who have been holding prayers along the Nyeri-Nairobi highway, held prayer sessions to cleanse the stretch before heading to Witeithie and Njomoko area which are black spot areas.
The Christian Union members spent a couple of hours along the Highway, praying for divine intervention to reduce the high death rates that is believed to have had quite a number of people losing their lives, especially at Witeithie area.
Speeding of vehicles and reckless driving has been blamed for the frequent accidents. Maina Karanja, a resident and business Man at Witeithie, said that almost every week people lose their lives at Witeithie.
"It's really sad to see the high death rates that occur here, the government has acted minimally to improve the situation, these deaths are due to over speeding and reckless driving along this area since no safety measures are in place such as the Fly-overs and bumps where necessary," said Karanja.
Residents of Witeithie have been complaining for quite some time now and are seeking for Government's action to construct a fly-over along this stretches so as to reduce the deaths since Zebra crossing are not effective. They claimed that over speeding was due to lack of bumps and that the zebra crossing is often assumed by drivers hence causing accidents.
"Constructing a fly-over at this place will enhance the safety of not only residents but also children since the zebra crossing is not helpful as drivers assume it and recklessly drive past while over speeding and without caution," said a resident.