Safaricom: What we know about election results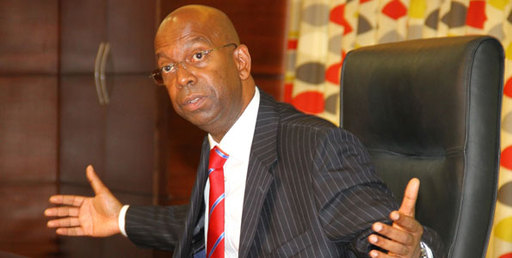 National Super Alliance (NASA) leader Raila Odinga has dragged Kenya's leading telecommunications firm Safaricom into the election dispute.
Mr Odinga today asked the mobile service provider, which was contracted by IEBC, to explain why it routed results from the polling stations to a server in France and terminated them there instead of transmitting to the electoral commission's server in Kenya.
This, he said, gave room to the manipulation of the poll outcome relayed to the national tallying centre at Bomas in the capital Nairobi.
Safaricom's response
Our attention has been drawn to the statement read by NASA on September 26th with regard to the conduct of the August 8th General Election.  Safaricom Limited would like to clarify our role in the last general election. We were required to:
a. Provide a dedicated secure tunnel to transmit the encrypted data from the KIEMs kits to the IEBC server, also known as a Virtual Private Network or VPN;
b. Provide technical support to the IEBC before, during and after the general election day including a dedicated project manager; and
c. Provide a record of transmission from all the SIM Cards provided to the IEBC under the contract for purposes of the General Election.
For further clarity as to how transmission was conducted, the country was divided into zones, allocated to Safaricom, Telkom Kenya and Airtel Kenya, collectively known as the Mobile Network Operators (MNOs).
All KIEMs kits had two SIM cards with one MNO as primary provider and the other MNO as secondary. Each of the MNOs established a VPN to transmit results from areas where they were either a primary or secondary provider. The role of the MNOs was therefore merely to transmit the results from the KIEMs kit to the IEBC servers.
In accordance with the contract with IEBC, all the mobile operators connected their VPNs and transmitted the data to the IEBC cloud servers. It was IEBC's responsibility to transmit results from its servers to the tallying centres and this was publicly available information.
Contrary to what is alleged in the NASA statement, results from KIEMs kits from Safaricom zones, were transmitted and are on the IEBC web portal.
Further, it is factually incorrect and unsupported by any evidence whatsoever that Safaricom was informed that some 100 KIEMs kits, as alleged, were stolen from IEBC.
As such there was nothing required for Safaricom to report and in any event, if any KIEMS kits were stolen it the responsibility of IEBC to make such a report and further notify the MNOs to deactivate the SIMs. Safaricom did not receive such a report from IEBC.
Safaricom is deeply concerned that the NASA statement has recklessly gone ahead to mention innocent Safaricom staff members needlessly endangering them and their families. This action is callous and unnecessary. Safaricom would like to state that we discharged our contractual obligations strictly in accordance with our contract and the law.
Safaricom is ready to face any investigations and/or private prosecutions, brought by any party, on this matter.
Bob Collymore
CEO, Safaricom
Mugabe under siege as military takes power
Zimbabwe's military on Wednesday confirmed that it had seized power in a targeted assault on "criminals" around President Robert Mugabe, but gave assurances that the 93-year-old leader and his family were "safe and sound".
Military vehicles took to the streets of the Zimbabwean capital and prolonged gunfire was heard near the presidential residence early Wednesday as questions mounted over Robert Mugabe's grip on power, even as the army denied a coup in a state broadcast.
Tensions between the 93-year-old leader and the military that has helped prop up his reign have intensified in recent days, with Mugabe's Zanu-PF party on Tuesday accusing army chief General Constantino Chiwenga of "treasonable conduct".
The military's actions have been seen as a major challenge to Mugabe, but Major General Sibusiso Moyo went on state television in the early hours of Wednesday to deny the army was targeting the increasingly frail leader. "It is not a military takeover of government," Moyo said, reading a statement.
In a short broadcast on national television, which was seized overnight by soldiers, a spokesman for the military said it expected "normalcy" to return as soon as it had completed its "mission".
According to a government source, Finance Minister Ignatius Chombo among those detained by army.
Chombo was a leading member of the so-called 'G40' faction of the ruling ZANU-PF party, led by Mugabe's wife Grace, that had been vying to succeed the 93-year-old president.
Following is the text of an address made by Zimbabwe Major General SB Moyo, Chief of Staff Logistics, on national television after the military seized power:
"We wish to assure the nation that His Excellency the President of the Republic of Zimbabwe, and commander in chief of Zimbabwe Defence Forces, Comrade RG Mugabe, and his family are safe and sound and their security is guaranteed. We are only targeting criminals around him who are committing crimes that are causing social and economic suffering in the country in order to bring them to justice.
As soon as we have accomplished our mission, we expect that the situation will return to normalcy. To the civil servants, as you are aware, there is a plan by the same people to influence the current purging that is taking place in the political sphere to the civil service. We are against that act of injustice and we intend to protect every one of you against that.
To the judiciary, the measures underway are intended to assure that as an independent arm of the state you are able to exercise your independent authority without fear of being obstructed as has been the case with this group of individuals.
To our members of parliament, your legislative role is of paramount importance, of peace and stability in this country, and it is our desire that a dispensation is created that allows you to serve your respective political constituencies according to democratic tenets.
To the generality of the people of Zimbabwe, we urge you to remain calm and limit unnecessary movement.
However, we encourage those who are employed and those with essential business in the city to continue their normal activities as usual. Our wish is that you will enjoy your rights and freedoms and that we return our country to a dispensation that allows for investment, development and prosperity that we all fought for and for which many of our citizens paid the supreme sacrifice.
To political parties, we urge you to discourage your members from engaging in violent behaviour. To the youth, we call upon you to realise that the future of this country is yours. Do not be enticed with the dirty coins of silver, be disciplined and remain committed to the efforts and values of this great nation.
To all churches and religious organisations in Zimbabwe we call upon your congregations to pray for our country and preach the gospel of love, peace and unity and development.
To both our people and the world beyond our borders, we wish to make this abundantly clear this is not a military takeover of government.
What Zimbabwe defence forces is doing is to pacify a degenerating political, social and economic situation in our country which if not addressed may result in violent conflict.
We call upon all the war veterans to play a positive role in ensuring peace, stability and unity in the country. To members of the Zimbabwe Defence Forces, all leave is cancelled and you are all to return to your barracks with immediate effect.
To the other security forces, we urge you to cooperate for the good of our country. Let it be clear we intend to address the human security threats in our country. Therefore any provocation will be met with an appropriate response.
And to the media, we urge you to report fairly and responsibly.
We thank you." (additional reporting by Reuters)