German skincare brand Nivea has apologised and removed a Nivea advert that was deemed discriminatory. The advert for its invisible deodorant range said "white is purity" across an image of a woman.
It was posted on the firm's Facebook page, geographically aimed at its followers in the Middle East. Nivea accepted the post was "misleading".
Related >> Smelly underarms are worth Ksh1.4 billion
Many on social media complained the post was racist, but it was also widely-shared among alt-right users.
The advert on the Nivea Facebook page (since deleted) was posted alongside the caption: "Keep it clean, keep it bright. Don't let anything ruin it."
The post was directed at its audience in the Middle East, although the company has 19 million fans globally on its page. Many on social media complained about the post's racist connotations.
But it was also picked up by alt-right social media accounts who trolled the Nivea account with comments, including of Hitler and Pepe the frog, who was branded a hate symbol last year.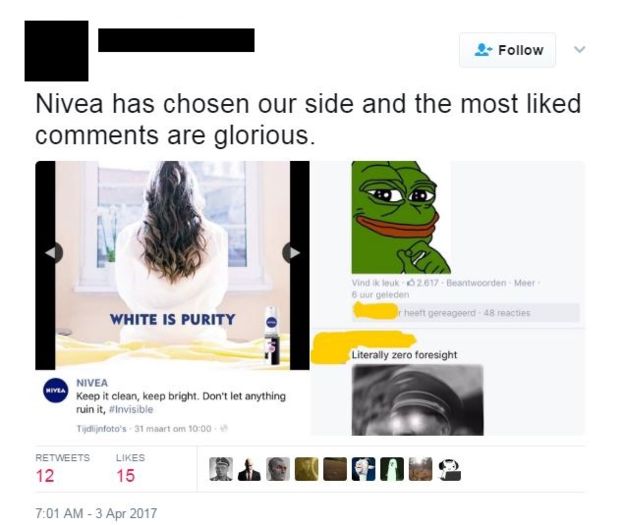 A spokesperson for Nivea's owners Beiersdorf said: "There have been concerns risen about ethnic discrimination due to a post about NIVEA Deodorant Invisible for Black & White on our NIVEA Middle East Facebook page.
"We are deeply sorry to anyone who may take offense to this specific post. After realizing that the post is misleading, it was immediately withdrawn.
"Diversity and equal opportunity are crucial values of NIVEA: The brand represents diversity, tolerance, and equal opportunity.
"We value difference. Direct or indirect discrimination must be ruled out in all decisions by, and in all areas of our activities. (BBC).
[crp]