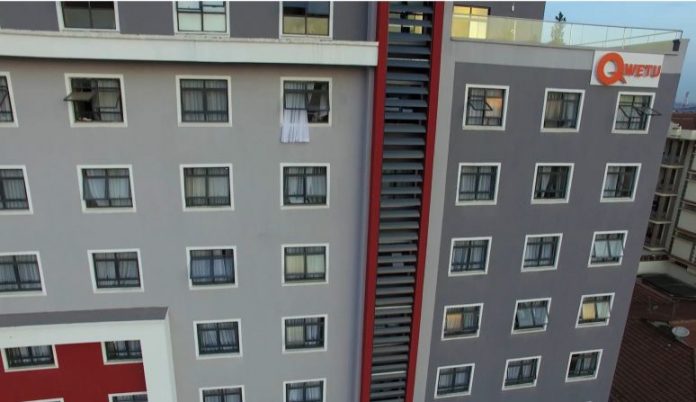 Qwetu has in the span of a few years become synonymous with purpose-built student accommodation (PBSA) in Kenya. The brand is owned by Acorn Holdings, a development firm which since its establishment in 2001 has grown into one of the region's largest investors in rental housing.
Acorn was founded by its current Chief Executive Officer (CEO) Edward Kirathe, the single-largest individual shareholder with a 30.24% stake in the venture. Over the past two decades, Acorn was central to the delivery of major commercial and residential real estate projects including UAP Centre, Coca-Cola's former Upperhill HQ and Deloitte East Africa Headquarters on Waiyaki Way.
The company, however, found a new goldmine in 2015 when it began the pilot phase for Qwetu through a joint venture with U.K Private Equity (PE) firm Helios Investment Partners. The venture identified the gap in quality student accommodation in Kenya despite rising numbers of students enrolled in public and private universities.
With the hostels within many universities filled to the brim and suffering from poor maintenance and over-crowding, off-campus hostels thrived as students sought alternatives. However, the off-campus hostels remain associated with challenges of their own including insecurity and poor services, lessening their desirability among students. Enter Qwetu.
Qwetu packaged itself as a solution for students looking for high-quality accommodation close to their institutions of learning. It emphasizes the aspect of community and Qwetu properties offer students enhanced security, multiple room types, clean residences, game rooms, wi-fi, gyms and more.
Qwetu properties in Nairobi are strategically situated around higher learning institutions such as University of Nairobi (UoN), United States International University Africa (USIU), Catholic University and Strathmore University. The brand boasts over 3,000 beds currently under management with plans to steadily expand to 60,000 beds by 2030 to keep up with the projected demand for student housing.
As highlighted by Acorn, beds available to students across the country are approximately 280,000 against more than 600,000 university students.
Qwetu notably also proved popular with international students enrolled in Kenyan institutions. It accommodates students from over 50 countries.
Helios has committed well over Ksh10 billion ($100 million) to support the development of the branded student hostels. Acorn also adopted a trailblazing investment model as it launched two student accommodation REITs (ASA D-REIT and ASA I-REIT) – allowing them to aggregate their own capital with that of third-party investors.
The 2 REITs are the first student accommodation REITs in Africa and the first issuances to list on the Unquoted Securities Portal of the Nairobi Securities Exchange. In the five-month period to 30th June 2021, the REITs showed steady growth consistent with Acorn's latest investments.
Qwetu USIU 4 (601 beds) and Qwetu Hurlingam (832 beds) are expected to be complete in Q4 2021. Qwetu and Qejani Catholic University (542 beds and 1,000 beds respectively) are on course to open in Q3 2022. Qwetu and Qejani Chiromo (837 beds and 2,112 beds respectively) aim to open in Q4 2022 after the necessary approvals were received in July 2021.
Qejani is Acorn's more affordable student accommodation offering, while Qwetu is its flagship brand.
Financial statements for the period of five months to 30th June 2021 indicate that the ASA D-REIT is on track to achieve its 10-year internal rate of return target of 34.9% while the ASA I-REIT outperformed its targeted returns beating its occupancy and net operating income targets.
Average occupancy for the 5 months under review stood at 85% against the 40% projected in the investment plan – an indicator of resilience of PBSA amidst the shocks of the Covid-19 pandemic.  The ASA I-REIT recorded a net income of Ksh79.36 million against a target of Ksh33.47 million.
The board approved the payment of an interim dividend of Ksh62.90 million representing an 80% payout of net income in line with REIT Regulations.
Beyond student housing, Acorn has also started work on its Palma brand aiming to offer purpose-built accommodation for young professionals.