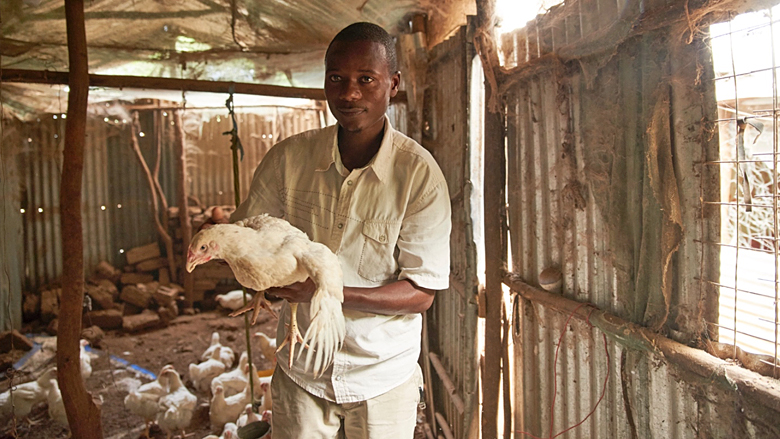 While refugees are mostly victims of circumstance, those in Kakuma, Turkana County have refused to let their past dictate their future as they make millions in the camp.
Two reports by the World Bank, The International Finance Corporation (IFC) and The United Nations High Commissioner for Refugees (UNHCR) dubbed Yes in my backyard? The economics of refugees and their social dynamics in Kakuma, Kenya and Kakuma as a marketplace reveal that presence of refugees in a country could be a boon for the local economy as demand for goods and services still exists in camps.
Consequently, plans are already in the pipeline by IFC and the World Bank to invest in refugee hosting areas as the global financial institutions look to uplift the standards of the marginalised areas.
Aloise Manlikiza, a refugee from Burundi, is making a killing from poultry with his target market being the residents of the camp and those living near the camp.
Mr. Manlikiza's poultry gig is one of the more than 2,000 informal businesses operating inside the camp.
In an interview with UNHCR, the Burundi trained history teacher said that he saw an untapped opportunity and tailored his business to serve the 18,000 refugees inside the camp.
"Necessity is always the mother of invention. I found myself in a predicament, life has to move on so I decided to start my business and see where it would take me. Luckily for me the returns have been good and I can say the whole thing has been a success," said Mr. Manlikiza in the interview.
So big are the businesses there that when there were talks about closing the camp in the early 2000s Turkana residents protested the move as the camp is their main source of employment.
The decision to move thousands of refugees from Dadaab to Kakuma in 2009 came as a relief to some in sharp contrast to common perceptions that refugees pose a security threat.
Similarly, the reports gave reasons as to why policy makers should drop their hardline stance and accommodate refugees because as their research revealed that refugees grow local economies.
"Refugee economies are under-researched and poorly understood and as noted in the World Bank's report on Forced Displacement and Mixed Migration in the Horn of Africa," reads the first report, Yes in my backyard? The economics of refugees and their social dynamics in Kakuma, Kenya.