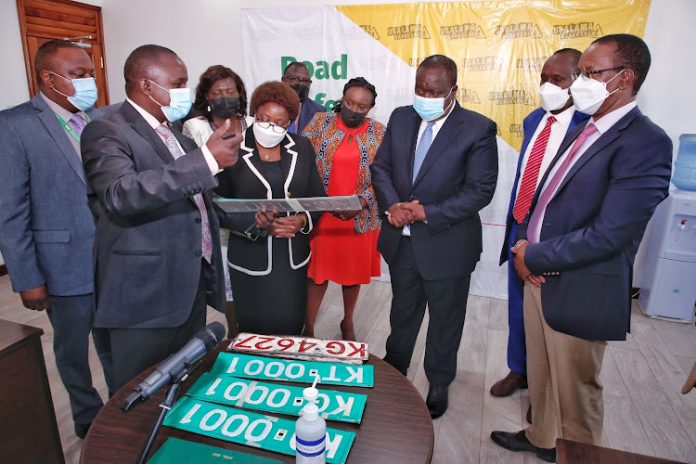 Interior Cabinet Secretary Fred Matiang'i on Friday, January 29 announced a raft of new directives affecting registration plates of vehicles as well as the operations of car dealers in Kenya.
The changes were informed by a report by an inter-agency team established to revalidate all motor vehicle/motorcycle dealers, manufacturers, repairers of motor vehicles, and tow truck owners. Members of the team were drawn from the transport and security sectors.
Matiang'i stated that the reforms were meant to "tighten regulations and curb proceeds of crime laundered through such businesses to fund terrorism among other criminal activities."
The moves come amid reported allegations that several car dealerships in Nairobi and other parts of the country are used as fronts in money laundering operations.
Matiang'i directed that all motor vehicle/motorcycle dealers operating in Kenya must undergo fresh licensing by the National Transport and Safety Authority (NTSA)  by April 1st, 2022.  Dealers who qualify will be issued with digital licensing cards.
Existing licenses will be revoked at the expiry of the period.
Notably, the Cabinet Secretary also directed the immediate phasing out of red KG number plates. The red KG number plate series was designated for vehicle dealers with a special insurance cover for vehicles awaiting number plates or without insurance.
They are to be surrendered to NTSA and replaced with new digital green plates by April 1st, 2022. The red KG plates will be replaced with Container Freight Stations (KC), Kenya Towing (KT) and KG plates.
All Container Freight Stations dealing in motor vehicles and towing services providers must must surrender red KG plates and replace them with digital green KC and KT plates respectively by April 1st, 2022.
The new plates unveiled by the National Transport and Safety Authority (NTSA) will be rolled out from February 1, 2022. All X- number plates stand nullified.
"Existing plates will be rendered obsolete at the expiry of the period," Matiang'i reiterated.