Levanter Africa and M-KOPA scooped a Diamond SABRE for corporate reputation management at the 2016 Europe, Middle East and Africa (EMEA) Awards, run by the Holmes Report. Levanter Africa is the first African-headquartered agency to win in the Diamond reputation management category of the SABRE Awards.
This achievement category picks the best work in corporate reputation management across all EMEA geographies and industry categories. They got the award from a competitive group of finalists, including MasterCard, Marks & Spencer, Costa Coffee and Ryan Air.
"We are delighted to be the first African agency to win in the Diamond reputation management category at the SABRE Awards." Mr Matthew Ward, Director, Levanter Africa said.  "To win at this level, you've got to show that you've built great content for your client's different audiences. We've focused on telling real customer stories to build word-of-mouth. And we've built great data to show progress with investors and partners."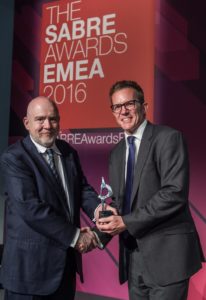 Levanter Africa was founded in 2013 by Matthew Ward and Janet Kimani. The Nairobi-based firm provides communications and business development services to organisations in energy, professional services, capital markets, ICT, manufacturing, logistics and development.
Levanter Africa has been M-KOPA's retained communications consultancy since 2014. M-KOPA has become the global leader in the pay-as-you-go off-grid solar category, connecting over 340,000 homes across East Africa to clean, affordable power.
Jesse Moore, CEO and Co-Founder, M-KOPA said: "We take the Kshs50 that low-income homes were spending on kerosene each day and turn that into solar power, radio, TV and a host of other product upgrades. Real customer savings and upgrades stories are at the heart of our business. And we try and get these messages across all our communications in media, digital, broadcast and at point of sale."
Levanter Africa has previously scooped an African Excellence Award in Energy in 2015 held in Cape Town South Africa and was the media campaigner of the year at the 2014 Public Relations Society of Kenya (PRSK) Awards.  The SABRE Awards and the Holmes Report are the PR industry's leading global shop-front for cutting-edge communications work.