[dropcap]W[/dropcap]hile studying at Kahuhia Mixed Secondary School in Murang'a, Esther Macharia, aspired to become an accountant. But after attaining a grade C (plain) in the Kenya Certificate of Secondary Education (KCSE) examinations, her parents could not afford to pay for her college studies.
"I had no option but to look for other opportunities to earn a living," says Esther, 30. "I started off as a matatu stage attendant in Murang'a town. I think it prepared me for what I am doing today, which for long was taken as a men's domain."
The single mother of one has perfected her art as a shaver and she's now among the few female barbers in the populous Kayole estate in Nairobi's Eastlands area.
But her entry into the business was purely by accident. "I did not train to be a shaver. I left Murang'a to look for opportunities in Nairobi and ended up being hired as a sweeper at a barber shop along Mfangano Street," she says
 After four days of cleaning the place for Ksh200 per day, she resolved to become a shaver. The money was not enough to sustain her, so she started training on how to use the shaving machine. "I can say it is financial difficulties that pushed me into this business," says Esther, who now operates her own barber shop and an M-Pesa outlet in Kayole's Gorofa Saba area.
"I was hired and worked at the barber shop on Mfangano Street for two and half years but unfortunately or fortunately, it closed down after the leasehold (goodwill) was exhausted," she adds.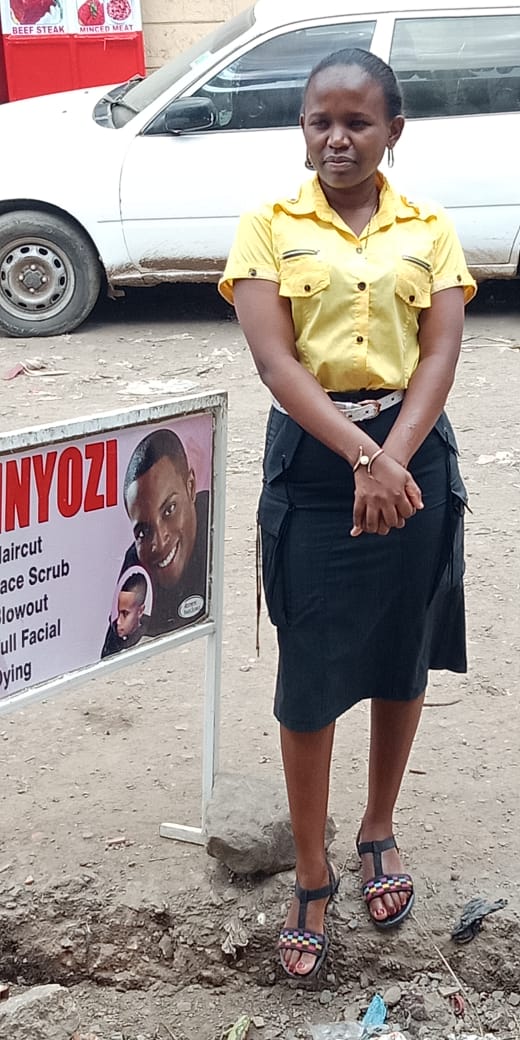 It is then that she moved to Kayole where, using her savings, she opened her own barber shop in Kioi area. It was an instant hit and business was good for the one year that it operated.
"I was forced to move out after one year when the landlord closed my shop and asked that I vacate it. I did not understand why he did so and I even took the matter to the Rent Tribunal. But after one month without doing any business, I just decided it was better to look for an alternative place," says Esther.
That is how she found herself at her current workplace. According to Esther, apart from shaving, she also offers extras such as head scrubbing and massage, among others. She charges Ksh 100 for head shaving and Sh 50 for beard shaving.
"In a good month, I make about Ksh 45,000," she says.
Asked why she opted to be a barber and not a saloonist, Esther says she has never wished to be one – she just wanted to be a barber.
She says almost all her clients are men because many women prefer going to saloons.
On whether her line of business exposes her to advances from her clients especially given that she is beautiful and still not taken, she responds in the affirmative but hastens to add she has devised ways of thwarting them without harming her business.
"Yes, they hit on me every day. But it is a job and I have to take into consideration the fact that they are my customers. So, I can't rudely tell them off. I just engage them and convince them that this is business not a private affair. I can't just be careless, otherwise, I will fall for everyone," she says.
"In fact, I have a customer whom I have shaved for more than four years. We started off at Mfangano Street and he still comes even here. And we have maintained a decent relationship," adds Esther.
What has served her well is that apart from her business, she likes to spend most of her time in the house with her daughter. She does not frequent entertainment spots though she does not mind a couple of Guarana takeaways once in a while.
Read: Why global aviation industry is set to lose billions
Where does she see herself in the next five years? "I want to open more branches and buy more advanced equipment. That way I will also employ more people. Presently, I only have one person on board who helps me with the M-Pesa shop," she offers.
Her driving force? " What a man can do, a woman can do even better!"