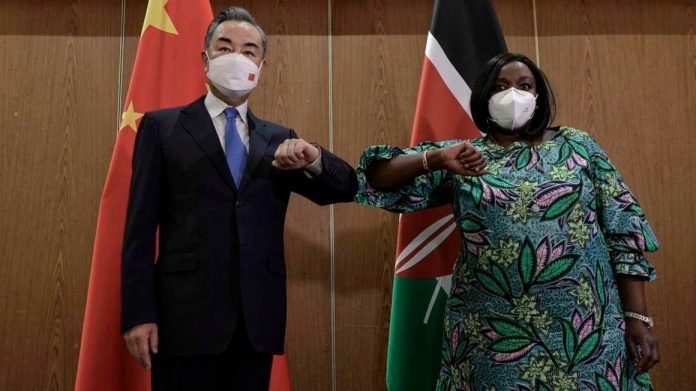 Kenya and China are set to extend their cooperation on various fronts following the signing of six trade agreements on Wednesday, January 6.
China's Foreign Minister Wang Yi who arrived in the country on January 5 led the Chinese delegation for a bilateral meeting, with Kenya represented by Foreign Affairs Cabinet Secretary Raychelle Omamo among other officials. The meeting took place in Mombasa.
Areas of cooperation captured in the agreements include technology, health, transport and agriculture. A joint working group was also established to formulate solutions to barriers hindering Kenya's trade with China.
"The six trade agreements signed on Thursday between Kenya and China will improve trade and deepen relations and collaboration between our two countries. Kenya seeks to increase agricultural exports to China to address trade imbalance between the two countries."
"The establishment of a working group to look into the issues of tariff and Non-Trade Barriers will see the two countries increase intra-trade," Omamo stated.
The agreements include collaboration on Information Communication and Technology (ICT) to boost the digital economy in Kenya. They also agreed to cooperate in the development of regional transport infrastructure under the Belt and Road Initiative (BRI).
The two countries will also partner on expanding the market for Kenyan agricultural products. In particular, Kenya seeks to export more avocado and aquatic products to China.
Wang Yi also reiterated China's pledge to donate one billion vaccines to countries in Africa.
"As a friend of Africa, China will never sit idle. The vaccines will be delivered in every corner of Africa where there is a need. We have announced another 10 million doses of vaccines to Kenya. In the face of various acts of power politics, China and Africa will defend international justice and fairness," he stated.
Yi sought to counter the narrative that China is intent on tying down African countries in debt traps.
"This so-called debt trap is not a fact, it is speculation being played out by some with ulterior motives. This is a narrative trap created by those who don't want to see developments in Africa. If there is any trap it is about poverty and underdevelopment," he stated.
Yi is expected to visit Chinese-funded infrastructure projects ongoing in Kenya and also to hold talks with President Uhuru Kenyatta.