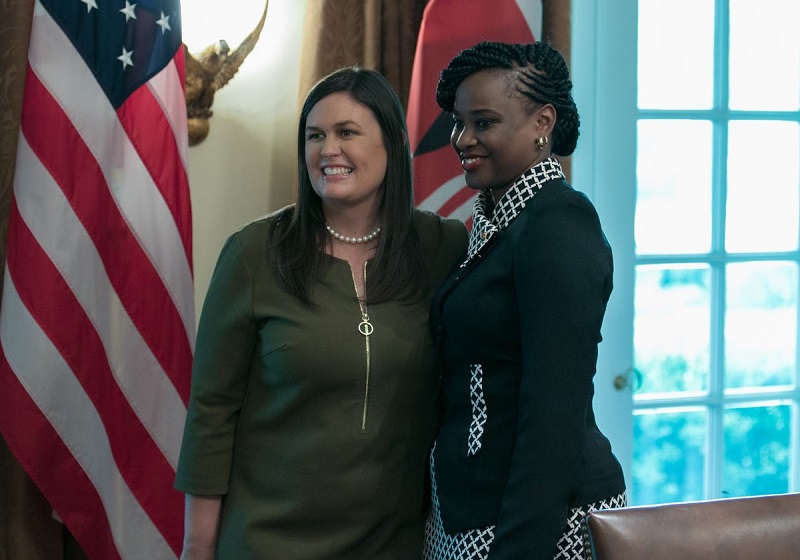 President Uhuru Kenyatta has confirmed former Citizen TV anchor Kanze Dena as State House Spokesperson and Head of the President's Strategic Communication Unit (PSCU). She had been working in an acting capacity for the last three months after replacing Manoah Esipisu, who was redeployed to the diplomatic service as High Commissioner to the United Kingdom.
It is the first time a woman is substantively held the top job since independence. She is deputised by another woman,  Munira Mohamed, the deputy head of the PSCU and Head of the Presidential Library. She was previously the Director of Press at State House.
"We wish Ms. Dena success in her new role and ask all stakeholders including PSCU staff, the media and colleagues in Government to accord her the support she needs to excel," Chief of Staff Nzioka Waita said in a statement.
The confirmation comes at a time when Dena has embarked on strengthening the State House communications team by recruiting new faces.  This, even as some forces appeared to undermine her by putting out a narrative that the unit is no longer the force it used to be before she was tapped for the top especially when it comes to defending the President on social media.
Congratulations Spokesperson @KanzeDena. You are equal to the task. My best wishes. God Bless You. @UKenyatta pic.twitter.com/XZlAKptbEt

— Manoah Esipisu MBS (@MEsipisu) October 12, 2018
At one time, Dennis Itumbi, whose fate as director of digital communications, alongside those of his colleague directors, is unclear, was forced to come to her defence urging critics to give her time to formulate and execute her strategy.
"I have noted many kind words relating to the input of the great team at PSCU. I appreciate, it is always good to read feedback both positive and negative that is how we grow and witness the beautiful act of excellence. However, let me say this, we should always give people time to execute their vision, you never know, they may just shock you with their strategy, they may be slow but effective. Most importantly, institutions must be allowed to outlive individuals. Watu wa mkono kama sisi, should never be a discussion that outshines an institution. Institutions must outlive individuals, however good they are," Itumbi wrote on his Facebook page late last month.
READ: RUTO TO REWARD HARAMBEE STARS KSH50M IF THEY DEFEAT ETHIOPIA
"Individuals come and go, but institutions live long after our compulsory exit at some point. But we shall continue to serve until the day of exit comes. Create Digital institutions wherever you are. They will be here long after your personal accounts have exited the stage. Good evening and God Bless You all," he added.
At the time, the President was under a****k for pushing through unpopular new taxes in the Finance Bill 2018.