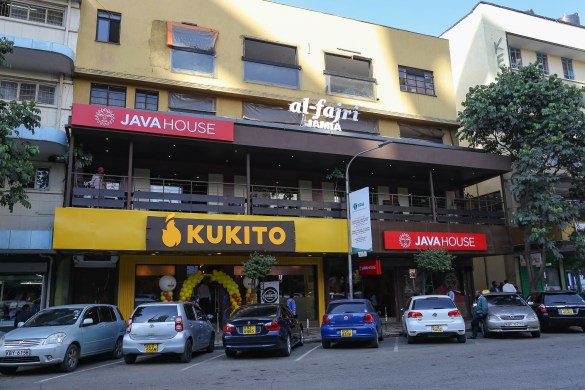 Java House Africa Group Chief Executive Officer  (CEO) Derrick Van Houten has shed light on the restaurant chain's plans for its subsidiary brand Kukito, which specializes in chicken and chips.
Kukito was introduced in 2019 with a first location in the Nairobi Central Business District (CBD) featuring distinct Kenyan branding and different chicken and chips offerings going for between Ksh300 and Ksh600.
In 2020, it opened more outlets in Lavington and Gigiri. However, Java was among players in the hospitality sector that were hit hard by the p******c. As restrictions on dining, social distancing and operating hours were imposed, the chain's revenues went on the decline.
Java responded by sending home about 700 employees through a voluntary exit program and shutting down several restaurants.
The company had to put on hold plans to open outlets at various sites in Nairobi among other areas. Now, it is looking to bounce back from the shocks of the p******c and has big plans in store for Kukito, whose growth has been constrained by several factors.
Houten disclosed that Java was keen on expanding Kukito to have over 30 outlets in the next five years. If successful, the move would take restaurant branches under the Java umbrella to well over 100. It currently has over 80.
The former KFC executive, who joined Java House in March, further noted that they expected Kukito to create about 200 jobs.
"The plan is to open 30 Kukito outlets in the next five years. We are opening more Kukito outlets to add to the two that we currently have in Nairobi. Kukito has been positioned in such a specific space in the market. Its grilled chicken and chips sell at between Sh300-Sh400.
"The beauty of this brand is that you can put it up anywhere. You don't have to be in malls or fuel stations. What we are doing is that we are providing a young brand in a market space that's not being penetrated at the moment.
"That space at the moment has a whole lot of different chicken openings from roadside outlets and CBD brands but there are no good safety-related chicken brand. One Kukito outlet has about six workers and this means that we will create about 200 jobs once all the outlets are up and running," Houten stated in an interview with Business Daily.
He further revealed that the company was open to exploring a franchise arrangement for the Kukito brand.
Other brands currently under the Java umbrella include Java House, 360 Degrees Artisan Pizza and Planet Yogurt.
"Franchising is an opportunity with Kukito. If we could get partners who could build in Kukito as a franchise unit, that we will definitely do," Houten asserted.