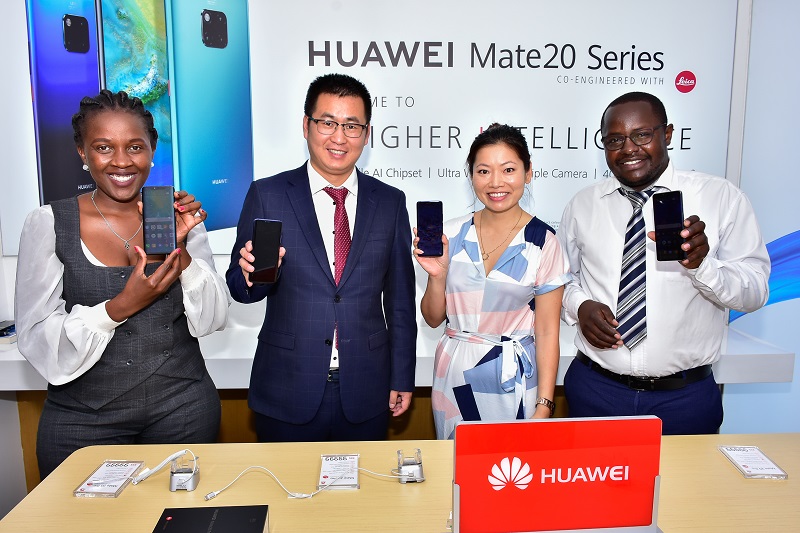 Huawei Mobile Kenya unveiled the much-anticipated HUAWEI Mate 20 Series to users in Kenya.
"Consumer expectations are rising and in the race to bring the best Android smartphone to market, Huawei is leading the rapid development of technologies that help improve device performance to satisfy those needs. The HUAWEI Mate 20 Pro offers consumers a compelling combination of high performance, longer battery life, advanced security, and a greater photography and videography experience through its Leica Ultra-Wide Angle Lens camera. Powered by its own in-house designed Kirin 980 AI chip, this advanced chip is fabricated with leading 7nm process technology, packing 6.9 billion transistors into a form factor the size of a fingernail." said Steven Li, Head of Eastern Africa Mobile.
The HUAWEI Mate 20 Pro is equipped with a 40MP main camera, a 20MP ultra wide-angle camera, and an 8MP telephoto camera. Together, the trio of lenses supports a wide range of focal lengths enabling it to mimic the results from professional cameras. This wider perspective creates a sense of spaciousness and a three dimensional effect to the images. The new camera system also supports macro distance, which produces crisp images of objects that are laces as closed as 2.5 cm from the lens. The HUAWEI Mate 20 Series also features an AI Portrait Color video mode. Using AI, the HUAWEI Mate 20 Series can isolate human subjects and desaturate the colors around them to dramatically highlight the person. AI Spotlight Reel identifies clips with a shared theme and auto-generates a montage, made entirely of highlights.
Long-lasting Battery, Super charge and wireless quick charge and a unique reverse charging feature
Besides superb performance, the HUAWEI Mate 20 Series also features groundbreaking improvement on battery life. It houses a large, high-density 4200mAh** battery, and supports 40W HUAWEI SuperCharge, which gives the device 70 percent charge in 30 minutes. The safety of the technology is certified by TÜV Rheinland.
Moreover, HUAWEI Mate 20 Pro supports 15W HUAWEI Wireless Quick Charge, the industry's fastest wireless charging solution, and Wireless Reverse Charge, which enables the device to work as a power bank for selected electronic devices supporting wireless charging.
HUAWEI Mate 20 Pro supports 3D Face Unlock. The solution quickly and securely authenticates users within 0.6s at a false acceptance rate of below 1/1,000,000. Using the 3D Depth Sensing Camera System located at the front, the devices can accurately read the facial features of a subject and recognize even small details. Besides user authentication, this suite of sensors also enables the portrait beautification effects to be realized in a more natural and effective way.
The HUAWEI mate 20 series also features an in-screen fingerprint sensor. The company has evolved the design of its in-screen fingerprint sensor to achieve better speed and success rates. It can pinpoint the location of a user's finger on the screen, and remove the on-screen prompt immediately when a user removes his or her finger.
The SoC at the core of smartphones has a determining factor in a device's performance and efficiency. Manufactured with the cutting-edge 7nm technology process, the SoC fits 6.9 billion transistors within a die the size of a fingernail. Compared to Kirin 970, the latest chipset is equipped with CPU that is 75 percent more powerful, GPU that is 46 percent more powerful and NPU that is 226 percent more powerful. Furthermore, the efficiency of the components has also been elevated: the CPU is 58 percent more efficient, GPU is 178 percent more efficient, and the NPU is 182 percent more efficient. The Kirin 980 is the world's first commercial SoC to use the Cortex-A76-based cores. The Kirin 980 is also the industry's first SoC to be equipped with Dual-NPU, granting it higher On-Device AI processing capability to support any and all AI applications.
The HUAWEI Mate 20 Series comes with EMUI 9.0, a smart operating system based on Android P. Through AI self-learning algorithms, the operating system delivers an "evergreen" experience—it remains smooth even through extended use. It also features a new gesture navigation support allowing users to effortlessly interact with their devices using just taps and swipes. In addition it enables the HUAWEI Mate 20 Series to perform or enhance a range of tasks from object identification to food calorie counting** by simply pointing camera towards objects. It is also able to recognize famous paintings and landmarks.  Using 3D Live Object Modeling, consumers can even create a fun digital avatar to dance or interact with.
READ: CBK SUSPENDS EMPLOYEE OVER ANTI-JUBILEE TWEETS
The Mate 20 and Mate 20 pro will be available in selected outlets from Monday retailing at Ksh 75,000 and Ksh 100,000 respectively.