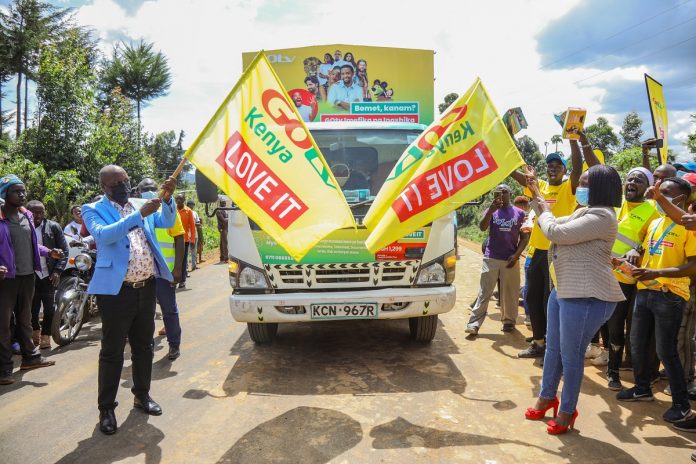 Residents of Bomet are a happy lot after GOtv commissioned a new transmission site in the area on Thursday 16th  December 2021. The new site will boost GOtv reception in Bomet town and adjacent areas including Silibwet, Tenwek, Longisa, Merigi, Motigo, Aisaik, Chebole Kapsoiya and Chebile, giving customers access to more channels, clearer signal and unmatched local and international entertainment.
Mr Simon Langat, County Secretary Bomet County, while commissioning the site, said: "Bomet residents  are very happy with the work MultiChoice has put in to ensure that we can now enjoy affordable entertainment on GOtv. Boosting the signal in this region will provide more people with access to news and entertainment. As a county we, seek to strengthen our partnership with MultiChoice Kenya as they continue to support economic activities in Bomet and provide employment to hundreds of people through their products."
Ms Nancy Matimu, MultiChoice Kenya Managing Director said GOtv remains committed to offering more choice and great value through affordable packages that are tailor-made to suit a variety of customers. With award-winning local shows and great international entertainment available on over 70 channels, there is no shortage of content on the platform.
Bomet is the 26th site that GOtv has commissioned after Nanyuki which was launched on Tuesday 14 December. GOtv will launch four new sites in the coming months in a signal expansion plan that will see the company own a total 30 transmission sites in Kenya by March 2022.
Customers in Bomet and can visit Emminent Electronics, Lens Electronics, ReSquare Electroonics, Treestar Electronics, Mamboleo Electronics, Hope Electronics and Happy GO Electronics in Bomet for sales and aftersales support including decoder purchases, payment of subscriptions, package upgrades and downgrades, decoder diagnostics, customer care support, software upgrades, repair or replacement of faulty decoders, customer education (self-help service techniques), installation services and purchase of accessories among others.
GOtv customers can look forward to wholesome family entertainment on over 70 local and international channels including award winning Kenyan shows by top Kenyan starts available on five packages on GOtv – Supa, Max, Plus, Value and Lite.
Local shows on Maisha Magic Plus include new and returning Our Perfect Wedding, Varshita, Kina S2, Kovu S2, Selina, Pete, Hullabaloo Estate, Nyanya Rukia, The Turn Up and Pambio Live. Other local entertainment channels on the GOtv Supa package are Maisha Magic Poa and Mambo Moto channel with shows from across the region.
All the sporting action can be found on SuperSport Select 1 and 2 which will air football matches across the festive season with games from the Premier League, La Liga and Serie A and the WWE Channel showcasing daily and weekly fixtures with daily all-round sporting highlights on the SuperSport Blitz Channel.
See Also >> Relief For Customers As CAK Slashes Call Rates
Lifestyle channels TL Novelas channel, Honey Channel and Food Network have the best food, cooking, relationships and wedding shows alongside reality shows from across the globe. Other channels available on the GOtv Supa package include National Geographic, Akili Kids, Nick Junior, Boomerang and Nick Toons for the kids. GOtv Supa is available for only Sh. 1,499 a month.
GOtv customers can also sign up to GOtv Max for Ksh1,150 with 55 local and international channels, GOtv Plus with over 45 channels at Ksh870, GOtv Value available for Ksh550 a month with over 30 channels and GOtv Lite which is available for only Ksh265 per month with over 20 channels including local favorites Maisha Magic East, Akili Kids and TV 47.