Ghafla,  the popular entertainment and gossip website, has been bought out by Swiss media company, Ringier Kenya.  In a notice recently published in a local daily, the two firms asked individuals and companies owed any money by Ghafla to seek payment before the change of ownership takes place.
News of the acquisition first emerged in May this year but the founder and CEO of Ghafla, Samuel Majani, denied possible buyout. Financial details of the deal are guarded but sources say the website has been sold for close to Ksh100 million.
Ringier's acquisition of Ghafla is seen as part of its broad plan to consolidate its presence in Africa where it has acquired or gained stakes in several sites through Ringier Africa. It could be a pointer to the growth of the digital business in Kenya, especially websites and blogs.
Already, Ringier Kenya has acquired at least five sites in the country, including Rupu (online shopping platform), BrighterMonday (jobs site), PigiaMe (online market place), Cheki (online car dealers) and buyrentkenya (property portal).
[crp]
In the legal notice dated July 29, 2016 (see below), Ghafla Business whose legal entity is Laini Majani Investment Limited will be transferring its contracts, intellectual property and relevant office equipment to Ringier Kenya Limited.
Founded in Switzerland as a media company, Ringier came to Kenya, the first country in Africa in 2011. Ghafla were first incubated at Nailab in 2011 when Majani and Lyosi Mwedekeli received Ksh14 million investment. Prior to launching the brand, Ghafla was operating as KenyanLyrics.com from 2009.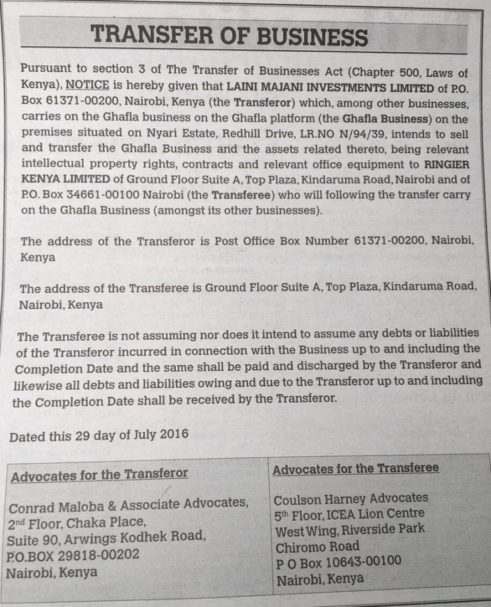 In November 2013, the company was among the first to receive funding from 88mph valued at Ksh25.38 million (US$25,000). 88mph bought a stake in it but Majani retained majority shareholding. But this process also saw the exit of Lyosi Mwedekeli from the company due to disagreements.
A bid by Radio Africa Group to buy out Ghafla sometime back was rejected, forcing the company to start mpasho.co.ke, also an entertainment and gossip site.
It is not clear what stake Ringier has acquired but it is likely to be a full buyout going by the history of its dealings in the country. In May, Techweez wrote that the gossip blog has been bought for Kshh30 million but Majani denied this, stating that the figure is its annual budget for operations.