The Kenya Alliance of Resident Associations (KARA) on Tuesday, November 17 signed a Memorandum of Understanding (MoU) with Old Mutual Life Assurance Company and Faulu Insurance Agency, a subsidiary of Faulu Microfinance Bank.
Kara is an umbrella body for resident associations in the country, and represents the interests of more than 250,000 residents.
The MoU is meant to provide a framework for collaboration in different areas.
The plans include the creation of financial empowerment solutions tailored for residents as well as financial literacy programs.
The deal will also see Kara involved in the creation of products addressing the unique needs of their members.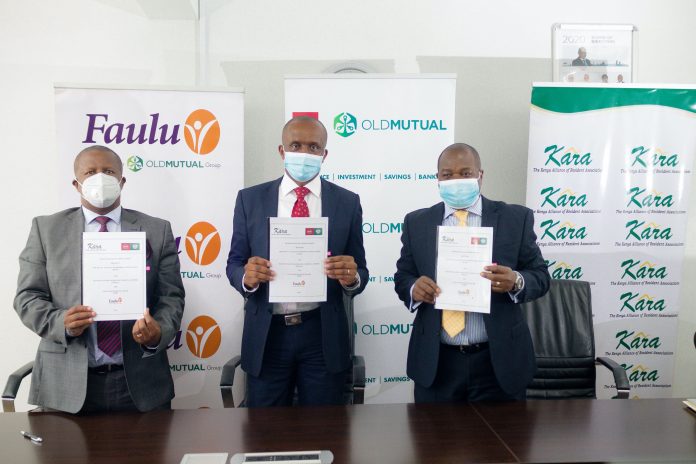 The organizations also plan to collaborate on awareness programs both at national and county level.
In addition, UAP Old Mutual Group will sponsor Kara events including the Annual Resident Associations Excellence Awards and the National Resident Associations Summit.
Kara Chief Executive Henry Otieno welcomed the partnership, noting that it spoke to the financial challenges faced by many Kenyans.
"This partnership fits in well with Kara's value system at the core of which is our members' welfare.
"As a responsible society, we seek to establish partnerships that will provide our members with financial solutions to help cushion them from financial shocks arising from unforeseeable events," he stated.
Highlighting the financial literacy aspect of the partnership, UAP Old Mutual Life Business Group Managing Director Jerim Otieno revealed that Kara members would benefit from knowledge delivered through webinars and articles among other multi-media formats.
"We are delighted to be partnering with KARA to collaborate on areas of mutual interest and specifically, create financial solutions that meet the unique needs of KARA members.
"This partnership will also build on our commitment to promoting financial inclusion in the society," he asserted.