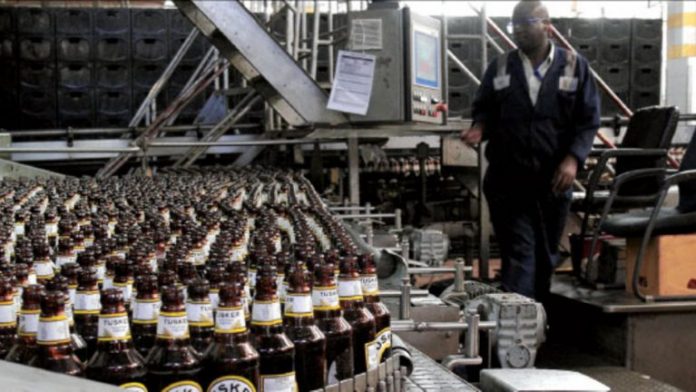 East African Breweries Limited (EABL) has disclosed plans to end use of electricity from Kenya Power in its plants in Kenya by the year 2030.
Going green, the Nairobi Securities Exchange (NSE)-listed firm is investing Ksh22 Billion in a bid to depend solely on renewable energy – a mix that includes solar and biofuels. it will be the single largest climate action investment by Diageo across Sub-Saharan Africa.
"We are committed to sourcing 100 percent renewable electricity by 2030 in all of our facilities. Ksh22 billion investment also includes the production of biofuel…This is already being partly implemented in our Kisumu plant, with 10 percent of our current electricity requirements being met by renewable energy from solar," stated Kenya Breweries Limited (KBL) Managing Director John Musunga.
Musunga further revealed that the investment would be launched at the start of 2022. The production of biofuels is expected to help EABL reduce carbon emissions by 95 percent (about 42,000 tonnes of carbon a year) and create over 900 direct and indirect jobs.
The country's biggest producer of alcoholic beverages has notably been making a series of recent investments in renewable energy for its plants – including 9.3 megawatts to be generated at its Ruaraka plant and 2.4 megawatts from solar in Kisumu.
In a January 2021 notice, it noted: "The purpose of this power generation is for own use as a backup during power outages from the national electricity provider to ensure continuity of operations."
EABL's move to cut ties with Kenya Power is consistent with trends in the energy sector that have seen many of KPLC's industrial consumers, who account for the largest share (68.31 percent) of the state-owned power distributor's sales revenues, move to become more self-reliant for their energy needs.
With Kenya Power on the spot over reported inefficiencies, black-outs and expensive costs, more companies are choosing to generate their own power with solar (PV) grid-tied systems emerging as the preferred option for most.
Among them are Garden City Mall, Williamson Tea, Africa Logistics Properties (ALP), Mombasa International Airport and London Distillers Ltd.
London Distillers Ltd for example installed a 1 MWp roof solar system in Athi River, stating that it would save them at least Ksh18.4 million annually over the system lifespan of 25 years.
Williamson Tea unveiled a 1MW solar farm in Changoi, stating it would slash its energy bills by a third.
Garden City Mall in Nairobi set up a $1.9 million (Sh207.8 million) solar carport to generate 1,256 megawatt hours annually from 3,300 solar panels installed on the topmost car park shade, a move expected to save Ksh31.6 million annually.