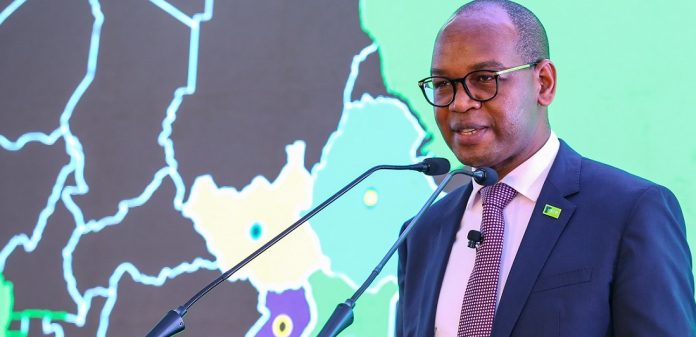 Long-serving CEO Joshua Oigara is leaving KCB Group, according to an announcement on Tuesday this week, an exit that surprised the industry and stock market, coming six months earlier than his expected contract expiry date in December 2022. Mr Oigara was replaced by Paul Russo, who was the managing director of National Bank of Kenya (NBK), acquired by KCB two years ago.
See >> Meet Joshua Oigara's Replacement as KCB CEO
Mr Oigara was expected to leave at the end of last year but his contract was quietly extended to December this year. The extension of his tenure to 31st December 2022, was actually the second extension for the 47-year-old who earlier said he was open to ending his nine-year term end of last year.
Leaving the job must have been a difficult decision to make, given the financial benefits that it comes with. The huge pay by KCB Group had catapulted Mr Oigara to the envied league of highly paid executives for companies listed at the Nairobi Securities Exchange.
In 2021 Mr Oigara's annual pay hit Ksh368.5 million, a jump of 217% or Ksh252.3 million, as the bank rewarded him for good performance. While his annual basic pay remained Ksh76.4 million, he received a Ksh241.1 million bonus for guiding KCB Group to net profit growth of an impressive 74% to Ksh34.2 billion.
Meanwhile, Mr Oigara's non-cash benefits — medical insurance cover and club membership — rise from Ksh300,000 to Ksh1.6 million. This compensation is linked to his long tenure in growing the bank from loss-making to one of the largest lenders by earnings and assets base.
Based on this figure, leaving by end of May 2022 means Oigara could be forfeiting half of this package, which amounts to  Ksh184.5 million. With KCB growth trending high, that figure would have been higher by the end of 2022.
Two more years but…
Even as it became clear Oigara's time was up, the board still wanted to use him more. In a clever strategic manipulation, KCB Group Board got shareholder backing to change the terms of his contract to five years from four years in its latest annual report, effectively extending his contract.
Granted, the nine-year period during Oigara's tenure recorded significant growth for KCB in terms of financial performance and expansion. KCB, which also operates in Uganda, Tanzania, Rwanda, Burundi and South Sudan, has returned double-digit profit growth most of the years since it hired Mr Oigara.
Read >> Loans Company Director Says He Was Robbed By Aspiring MP At Gunpoint
At 37 when he was appointed, Mr Oigara was the youngest leader of a listed company in Kenya. He was poached from Bamburi Cement in November 2012 to take up the position of financial officer before he was promoted to replace Martin Oduor-Otieno as CEO.
Mr Oigara joins a small club of CEO who have served at least a decade. This league includes the CEO of DTB Group Nasim Devji (20 years), Cooperative Bank's Gideon Muriuki (20 years), Equity Group's James Mwangi (17) and Crown Paint's Rakesh Rao (16).
Next >> Here Is The Bank CEO Who Won't Just Retire