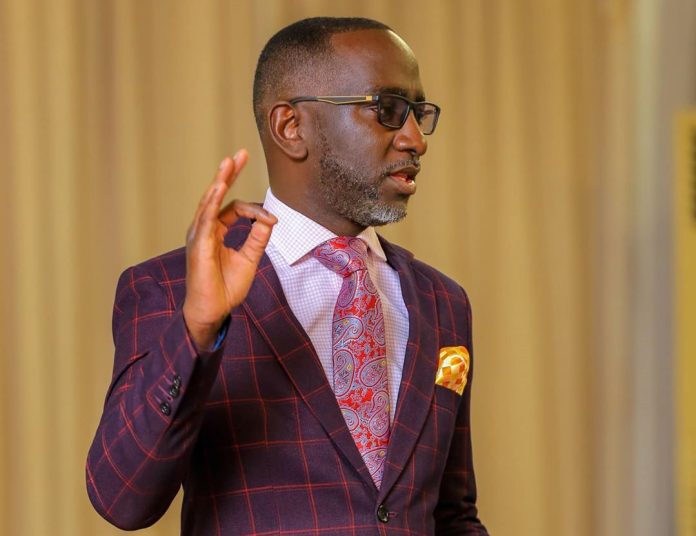 Life coach and media personality Robert Burale became the subject of hilarious conversations among Kenyans online on Sunday, October 24 after an event poster for his 'Singles Night' went viral.
The event targets those who are single and searching, promising an unforgettable night with the coach, Burale. To be held at a city hotel in November, the poster also promises dinner, red roses for the ladies, accommodation, dancing, fun and games.
The tagline? 'Chivalry is not lost and so is an honorable lady'.
What caught the attention of Kenyans, however, wasn't the planned activities but the price tag – Ksh12,000 per person.
Many wondered aloud which single Kenyans were willing to spend Ksh12,000 in the hopes of finding the love of their lives. Given Burale's reputation, however, it shouldn't come as a surprise that many out there would trust him to achieve their life goals.
He has over the years positioned himself as a life coach, image consultant and media personality with a particular focus on relationships, dating and marriage.
He hosts the Oh Men show on Switch TV and is a panelist on NRG Radio's The Vent.
Burale is also a motivational speaker and has amassed a large following on social media where he constantly posts inspirational messages.
Also a pastor, he maintains that his work is intended  "to address real life challenges that people go through silently affecting marriages and families, which in turn has a negative effect in the society."
Sample some of the the reactions by Kenyans to the upcoming event:
"When we thought that being single is cheap; no expenses for dates, reduced cost on calls, no buying your partner random gifts, e.t.c Boom!!! Robert Burale appeared ! And now we are parting with a whopping 12k for being single . God, tulikosea wapi?" joked Phoebey Korir.
"I can tell you how to get into several relationships for free you don't need Burale for that I only draw the line at "how to have & stay in a healthy relationship," wrote Elena Njeru.
"Relationships expert Robert Burale comes to the rescue of the overstressed lonely hearts," shared one Kiliambiti.
"That Burale gig is actually 2K, hotel is 8k and Zumba is 1K. Then you throw in rose flowers za jana for 200 bob, and 800 bob phone bundles for posting your images while at the Hill Park. Fainting at the exit after the event, on realising you are still single, is free," wrote TrottoirRadio.