K24 has s******d yet another b**w after political affairs reporters Jane Chemutai Goin and Apollo Kamau ditched the Mediamax Network-owned station for Citizen TV.
The move leaves the station with virtually no political journalists after Duncan Khaemba, Anders Ihachi and Chris Thairu were shown the door in November 2015 when the media house retrenched about 70 journalists. Khaemba and Thairu were later hired by KTN.
Senior news anchor Richard Kagoe, who also used to report on politics and current affairs, also quit to join BBC in August this year.
Apart from covering political events, the two also doubled as parliamentary reporters.
At Citizen TV, the two are set to bolster its political coverage and also fill the void left by Jacque Maribe, who was banned by High Court judge James Wakiaga from appearing on TV as part of the bail sanctions that saw her released from remand after she was charged alongside her fiancee Joseph Irungu for the m****r of business lady Monica Kimani.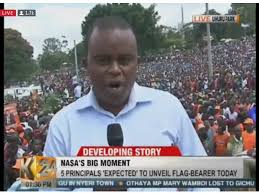 Goin started her career as a reporter at Capital FM before joining K24. On the other hand, Kamau previously worked with KBC and TBN/Family Media before joining K24 in September 2007 as a current affairs/political reporter.
K24 also recently lost rising business reporter Brenda Kerubo.