Hundreds of Game of Thrones (GoT) fans in Nairobi on Thursday turned up in a noble campaign by the HBO (Home Box Office) TV series and Kenya R*******s (KRC) to donate b***d and celebrate the upcoming season finale of the hit series premiering April 14, 2019.
The drive brought on board the Kenya National B***d Transfusion Service (KNBTS) and MultiChoice Kenya DSTV that will put on view the much watched and awaited series slated for the same time as in the US in the first episode.
The loyal fans chatting up on what they anticipate on the 8th season of the show were ready to take up the challenge on what they can do for the throne by volunteering to offer their b***d and calling on their friends to show up.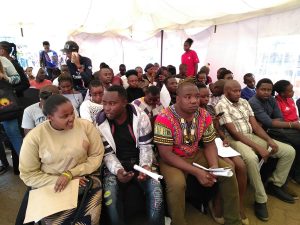 Locals waiting to donate b***d Photo/KNBTSUnlike other previous seasons, the 8th and season finale for the show will only have seven episode that will be running on an average 60 minutes.
Smiling faces, GoT royal regalia, b******g make ups of sword cuts, photo sessions, customized t-shirts among other gifts were awarded to the b***d donors.
The campaign will run from 14th March to 15th March in Nairobi outside National Archives Centre from 9am to 5pm.
[ Read: DStv partners with R*******s to conduct Game of Thrones b***d drive ]
"The Kenya R*******s Society is thrilled to partner with DStv and Game of Thrones. Every day, thousands of patients across the country are dependent on voluntary b***d donors to help them fight for their lives," said Dr Abass Gullet, Secretary General, Kenya R*******s Society during the launch.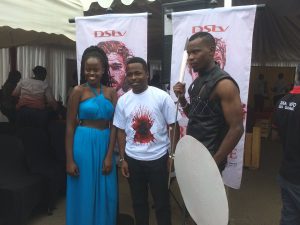 "We want to encourage Kenyans to turn up for this noble course that is in deed a life saving activity and also psyche up the GoT fans for the series that will first premier exactly a month from today (14th March) and remind them that MultiChoice will show each and every episode as soon as they are released," said MultiChoice General Manager Simon Karethi.
The campaign is aimed at addressing the shortage of b***d supply that is always running low in the b***d banks. This is because, in every 10 minutes, about seven Kenyans need b***d transfusion and are at a risk of dying if it is not available.
"The KNBTS is serving 500 transfusing hospitals nationally with b***d and b***d products. These facilities are public hospitals and health centres, private hospitals and faith based healthcare centres,"said Dr Josephine Githaiga the Director of KNBTS.
[ See also: Mother demands answers after daughter mysteriously d**s in school ]
In a year, the country requires about 450,000 units of b***d, but the KNBTS has projected a target of 180,000 units. Last year, the institution was able to collect 91.3 percent of the b***d which amounted to 164,275 units of b***d.
Mothers and children are reported to be the largest group of b***d consumers in the country at 60 percent.
"In 2 of every 3 units of b***d are transfused to mothers and children due to maternal mortality b******g just before or after childbirth or due to a m*********e, induced abortions and other pregnancy related complications such as tubal pregnancy," added Dr Githaiga.
The b***d for throne drive is conducted across the world in 15 international countries including the United States, Norway, Sweden, South Africa, Ghana, Botswana, Hungary, Poland, Romania, Czech Republic, Bulgaria, Serbia , Greece and Croatia.