It is now emerging that KTN News anchor Betty Kyalo can still legally reclaim her stake in Posh Palace salon as she owns 50% of the business.
According to a letter dated October 23 last year, the TV presenter, who recently started her own salon, Flair By Betty, owns 500 shares of Ksh 100 each while her former friend, Susan Kaittany, owns a similar stake.
However in a recent interview with the Star newspaper, Kaittany, said she invested Ksh 40 million in the business and only brought Kyallo on board as an influencer marketer because of her celebrity status.
Here is the letter from the registar of companies: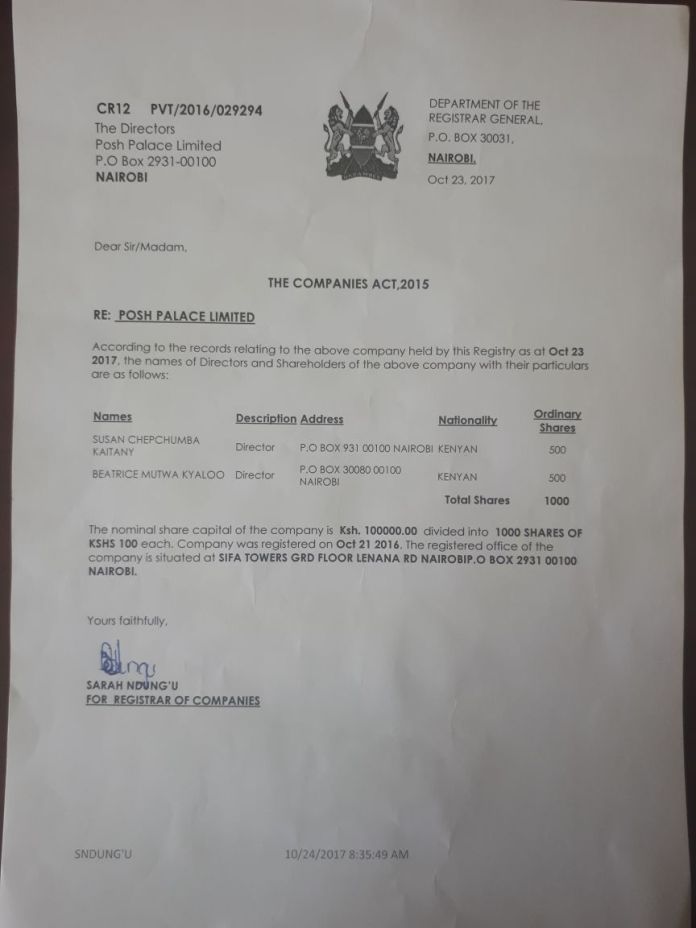 "I met Betty Kyallo when she was planning on getting married. It was a celebrity wedding. Thereafter we sponsored the wedding, we sponsored the honeymoon to Dubai and Mauritius and after that, we became friends. And of course having done the influencer marketing with her for our events and travel company, I really wanted them to be happy. I knew that if Kenyans saw them happy then definitely it would reflect very well on our company," she told the newspaper..
"And that is exactly what happened. So I thought the same kind of marketing would work for Posh Palace. And that is why I brought her on board. Along the way, it did not work out, unfortunately."
"I gave her that opportunity but of course, the thing about influencers is they are not used to having to give capital for anything. Or pay for anything. When you sink sh40 million into a business, really, it cannot amount to influencer marketing. Then in that case, i can afford to pay an influencer marketer sh200,000 per month for that service, if you compare it to the value of the business. So, that is why in the long run it just could not work," she added.
READ: SAFARICOM POSTS KSH 50 BILLION PROFIT
"The cracks started showing when it became more about her than the business. Yet, I was the one doing all the hard work, putting in the capital. Over the long run the cracks would definitely show. When they did show, i said, i have to be practical, we may have had a friendship but it is business. We have to be real; we cannot hide it or pretend. That would have gone only so far."