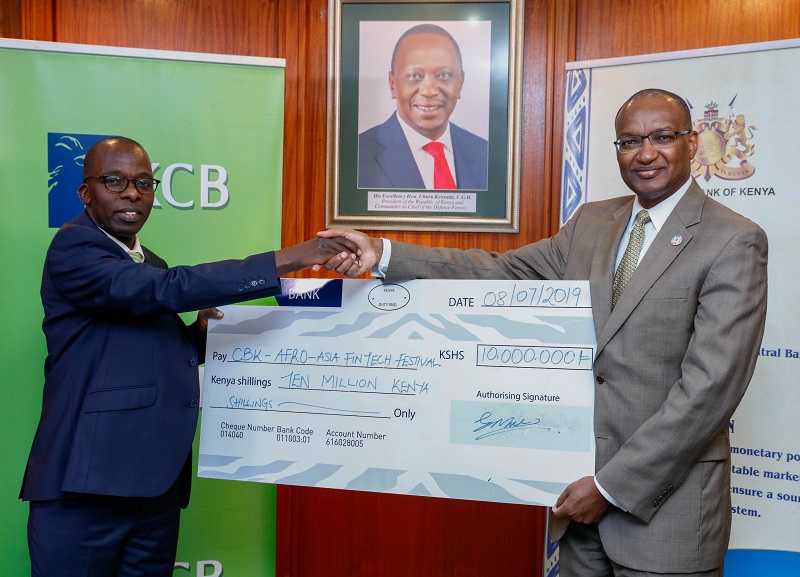 Banks and other fintech companies have committed funds to the Afro-Asia Fintech Festival 2019, a first of its kind in the region which will be held next week.
The funds will go into supporting the mega financial technology (Fintech) summit being hosted by the Central Bank of Kenya (CBK) and the Monetary Authority of Singapore.
KCB Bank Kenya committed KSh10 million, Safaricom (Ksh 5 million) and Standard Chartered Bank (Ksh 5 million).
The forum will take place on 15th and 16th July and is themed, 'Fintech in Savannah', modeled along the Singapore Fintech Festival. KCB backing is informed by the need for Kenya to continue driving innovations in the banking sector to boost financial inclusion.
Speaking during the cheque handover to the CBK, KCB Group Chief Operating Officer Samuel Makome said: "For the past five years, we have made significant investments in financial technology in the realization that the future of banking is in digital finance. We will therefore remain innovative and relevant in fintech by continuously providing products and services that promote financial inclusion."
For KCB, transactional activity continue to shift away from branches, with non-branch transactions, that is, mobile, agency banking, point of sale terminals and ATMs, standing at 88% of total volumes, compared to 12% handled at the branches. Mobile banking products have grown in transaction numbers and volumes with loans of over Ksh 54 billion.
"Leapfrogging technology in the region is transforming millions of lives and is bringing the world closer together to enable seamless business transactions" said CBK Governor Dr Patrick Njoroge.
"The festival is a great platform for us as it presents opportunities to showcase the progress that Safaricom has made over the years towards financial technology as well as interact with peers in FinTech across the globe," said Sitoyo Lopokoiyit, Chief Financial Services Officer, Safaricom.
"Two years ago, we opened up our Daraja API portal giving over 16,000 developers an opportunity to integrate their businesses with M-PESA seamlessly. This is in line with our strategy to deepen financial inclusion and give developers a chance to come up with new innovations," said Sitoyo.
"We are indeed delighted to host such a unique event which shows where we are as an African country in the spectrum of Fintech, we are at the front. We are the pacesetters and we are not just excited about technology but the difference it is making for millions of people in Africa and billions around the world," said Dr Njoroge.
The event which seeks to bring together over 5,000 participants, policy makers, industry leaders, entrepreneurs, innovators and researchers across the world is modelled after the Singapore FinTech Festival. It will provide a platform for players to exchange ideas, forge partnerships and nurture thriving Fintech ecosystems.
Some of the topics that will be discussed include Artificial Intelligence, Big Data, Cyber Security, Technology risks, Social impacts (SME Financing, financial literacy and inclusion, Sustainable finance and spirit of innovation among other key areas in Fintech.
Read: Microsoft: Cybercrime cost Kenya's economy Sh29.5b in 2018
Kenya is one of the African countries that has grown significantly in technology and is seen as a lucrative market for FinTechs. Last year, two Kenyan companies Cellulant, and Tala emerged among the Top 50 emerging Fintech companies in the world in the KPMG FinTech100 report.