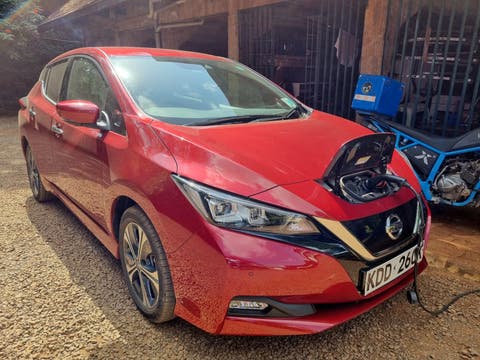 Tom Morton is the Nairobi-based Director of Tropical Power, a firm providing business to business solar power and biomass energy solutions in Kenya and East Africa at large. Thanks to a viral LinkedIn post, he caught the attention of Kenyans after revealing his experience driving an electric vehicle  (EV) in Kenya.
Morton imported a 62 kWh Nissan Leaf e+ Tekna from the UK to Kenya in 2021. Although Nissan has a presence in Kenya, the Leaf is not sold locally.
It was in his red Nissan Leaf that Morton traveled from Nairobi to Kisumu and back. So how did he do it? This was the question many had as Kenya isn't exactly known for having an extensive charging network for electric vehicles – although it is notably a world leader in adoption of renewable energy sources.
Morton's experience revealed that while they are important, and make things much easier, specialized charging networks aren't necessary for one to comfortably drive an EV in Kenya over long distances.
Tom has a 3kW solar PV system installed at his home. He mostly charges his vehicle at home. He set off from Nairobi with the vehicle fully charged.
The first leg of the trip saw him make the 90km drive from Nairobi to Naivasha where he had a 4-hour business meeting. He used the time to top up the charge using a standard 3-pin domestic socket at a petrol station in Naivasha.
Morton then proceeded with his journey, covering  250km and made it to his hotel in Kisumu. He spent a few days in Kisumu.
During this time, he would slow charge his vehicle, again using the standard 3-pin domestic socket at the hotel he was staying at. Soon, it was time to return to Nairobi and he made sure his vehicle was fully charged.
Morton notably drove non-stop from Kisumu to Nairobi, a 345km trip, and got home with 11% charge left on his car! The car had 55km of range left by the time he arrived in Nairobi.
According to Morton, he drove normally and averaged speeds of 80-90km/h. He overtook other vehicles when necessary.
His experience encouraged many Kenyans who have had reservations about using electric vehicles. The electric mobility space in Kenya is growing fast, with several companies now selling electric 2 and 3-wheelers.
Cab hailing companies and delivery services are adding electric vehicles to their fleets, and more public charging stations are being set up by private firms. State-owned power utility, Kenya Power, has also disclosed plans to set up charging stations.